RACY DREAMS COME TRUE FOR A SPEEDY RUSH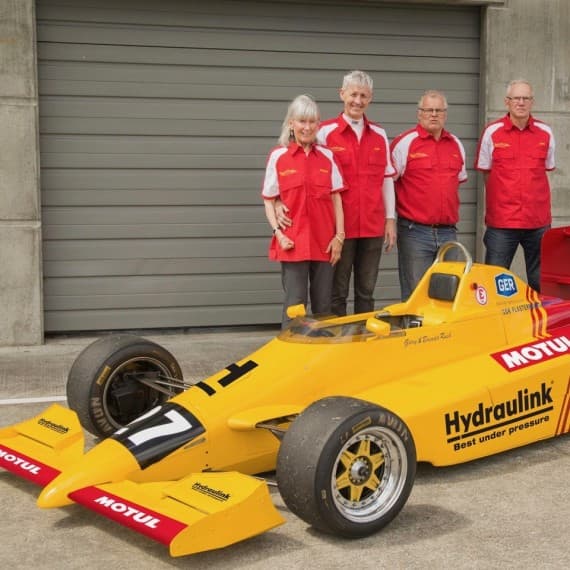 Brenda and Gary Rush, with supporters Evan Kontze and John Fayen
As a teenager, Gary Rush dreamed of driving in New Zealand's Formula Atlantic open-wheel racing cars. Now, a generation later, he has realised his dream, driving in and winning the top single-seater award of the Matos Formula Libre Series.
Rush won the Ultimate Echo Cup for finishing top of a field of up to 30 cars. The racing season, culminating in late April, was enthusiastically supported by Hydraulink through sponsorship including Motul high-performance lubrication products. Hydraulink is the exclusive NZ and Pacific distributor of Motul's range of heavy-duty diesel oils and hydraulics, and the brand is a highly respected name in many forms of racing.
"When I was in my later teens, I desperately wanted to drive Formula Atlantic cars, but we didn't have the money. So now, with the help of sponsors like Hydraulink, I am living the dream and loving every moment, thinking how lucky I am," says Rush, who competes in a Toyota-engined Swift DB4 Formula Atlantic car.
Although it is 30 years old, the Swift DB4 is a really fast car. "They are still one of the fastest cars on a race tracks and would be capable of being within two seconds of outright lap records on most race tracks anywhere," Rush says.
"Being a ground-effect car, the side pods generate a lot of downforce, which, combined with large tyres, gives the car very high cornering speeds. At only 498kg total weight, with a very highly tuned modified 1600cc engine, they are also very quick in a straight line.
Rush, whose day job is in the building and construction industry, has invested in his racing pursuits with the same energy and drive that he puts into his business.
"Driving these ground-effect cars takes a lot of learning. Driving saloon cars, you know when you have reached the limit of mechanical grip, because the car is sliding – there isn't anywhere to go from there."
"In these open wheelers, you could be doing, say, 80-90kph through the tight turn three at the Hampton circuit and when it starts to slide, you have to keep your foot hard down. As you generate more speed, you generate more aero effect, and the car starts sticking harder to the ground the faster you go. So, it is pushing past the limit of mechanical grip, which is one of the hardest things to get your head around."
The Motul products supplied by Hydraulink also get a thorough workout when Rush is chasing lap times. "The engine is a lovely little unit, which you are meant to keep to 9500rpm – which I don't – but it completed more than 3000km of racing with top reliability, which is wonderful," Rush says. "A big thank you to Hydraulink for support with Motul products, which are the best in the world."
Motul is one of the leading global brands distributed by hydraulic service specialist Hydraulink, which supplies hydraulic hoses, fittings, adaptors and accessories through more than 400 service points throughout Australasia.
Hydraulink
1300 36 37 34
www.hydraulink.com.au