Quiet, cost efficient compressed air
31-08-2010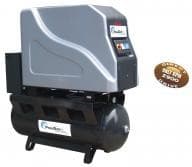 Quite remarkable … pneutech compressors from IAT 
Pneutech high efficiency coaxial drive screw compressors have a proven international reputation for reliability and long service life.
These compressors are slow revving, direct drive machines, designed to perform reliably in the most demanding environments. 
Pneutech offer a broad range of innovative and sleek designs, modular systems with better efficiency, cheaper operation, lower power usage, and minimal maintenance.
They operate quietly, helping to maintain low overall factory noise levels. This provides an ideal working environment – essential for optimum productivity.
An efficient and well-maintained air system can also minimise power usage in the factory. 
The largest cost related to producing compressed air is in energy consumption, and this typically represents the highest energy usage in the plant. 
With the price of electricity on the rise and the new carbon tax on the doorstep, it is vital for business owners to address the efficiency of their compressed air system and reticulation systems. A highly efficient system can deliver significant savings.
With 30 years' in compressed air, the team at Industrial Air Tools can provide innovative solutions for every compressed air requirement, no matter how big the requirement.
IAT services nearly all industry sectors including automotive, industrial, mining and civil, transport and defence.
Industrial Air Tools
Ph: 1300 133 235