Quick return: CNC plasma cutter a great investment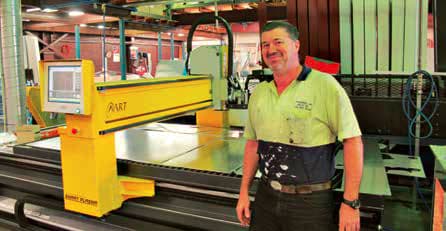 Progress Air based in western Sydney makes sheetmetal parts for airconditioning systems, servicing the local HVAC&R industry for more than 16 years.
Several years ago, Progress Air began preparations for the future of sheetmetal processing, as the industry became more competitive and customers demanded quick turnaround.
After careful investigations and evaluating various CNC plasma cutting systems, the company decided to install an ART CNCXRP4800 plasma cutter in June 2012.
The plasma cutting process is bestknown for its simplicity and its ability to cut virtually any metal. These qualities plus the productivity it yields had convinced company Director Rod Peters that it would be the right choice, and he was not disappointed.
"Our production levels have gone through the roof now, it's incredible," he says.
Also, the company has cut its monthly material expenses by more than half.
This is mainly due to the nesting function, which leverages the mathematical processing power of the PC to optimise material usage and reduce cost.
The company processes mild steel, galvanised steel, aluminium and stainless steel and is wrapped with the thickness the machine manages to cut (up to 20mm in mild steel).
While Mr Peters is very happy with the CamDuct software he is using, he is also considering investing in higher-level nesting software, such as ART's in-house developed ToolShop software.
While optimising material use still is a critical task, nesting software can play additional roles in three other areas – integration, automation, and part quality.
For example, nesting software can work easily with all standard 2D and 3D CAD formats.
It can also link to a central material inventory and work order database, create highly optimised nests of all materials and thicknesses within a single job and cut better parts.
ART machines are manufactured, sold and serviced in Australia by local people.
"We looked at Chinese and Americanmade machines ... but if something goes wrong, they are 10,000 miles away in a different time zone," Mr Peters explains. "ART's machines are serviced from Brisbane and are Australian-made."
According to Mr Peters, it took as little as six months for the machine to pay for itself – a sound investment for a small workshop. "The only thing I regret is my decision for a small 3-m table," Mr Peters adds. "Once we move to bigger premises, I will look into a bigger table to process two sheets at once and improve our productivity levels even more."
Advanced Robotic Technology (ART) Pty Ltd
Ph: 07 3393 6555