A QUEENSLAND SUCCESS STORY – HOT OFF THE WIRE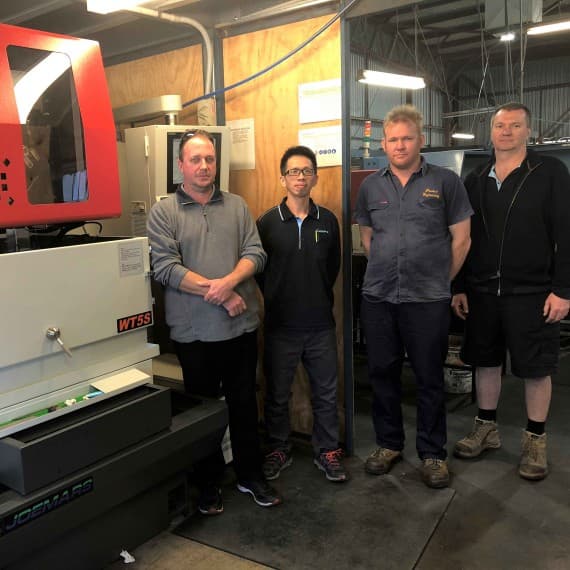 (L to R) 600 Applications Engineer Dave McDonald and Joemars Installation Engineer Stanley Chang hand the WT5S over to Product Engineering Wire Cut Specialist Ross Bunt and the company's MD Gavin Lister
A company in Stafford, on the outskirts of Brisbane, has spent the past half century building an industry-leading position and an enviable reputation in its specialised field – the creation of superior-quality moulds and dies in the plastics industry.
A third-generation family business, Product Engineering is now moving into a new phase, adding to its capability and capacity with new machines, and reinforcing its exemplary service to customers throughout the country and overseas.
The wire-cut type of machine arose in the 1960s for the purpose of making tools (dies) from hardened steel, principally for the rapidly growing plastic moulding industry.
In wire-cut EDM (electric discharge machining) technology, a thin single-strand metal wire, usually brass, is fed through the workpiece, submerged in a tank fluid, typically deionised water.
Material is removed from the workpiece by a series of rapidly recurring current discharges between two electrodes. The process depends on the tool and workpiece not making actual contact.
Managing Director of Product Engineering, Gavin Lister, explains: "Wire-cut EDM is typically used to cut plates as thick as 300mm and to make punches, tools, and dies from hard metals that are difficult to machine with traditional techniques or other methods.
"It can cut intricate contours or cavities in prehardened steel without the need for heat treatment to soften and reharden them. This method can be used with any other metal or metal alloy, such as titanium, Hastelloy, Kovar, and Inconel."
Expertise on tap
In Stafford, Product Engineering has a staff of skilled tradespeople, many of which began with the company as apprentices.
At its Stone Street workshops, clients are provided with a three-part service.
• Toolmaking – plastic extrusion dies, rubber extrusion dies, press tools, injection moulds (single and multi-cavity)
• Machining – turning, milling and drilling, CNC wire cutters/spark erosion, CNC machining centre and lathes, surface cylindrical grinding
• Injection moulding – performed with a host of materials, including metals, glasses, elastomers, confections, and most commonly used thermoplastic and thermosetting polymers.
In addition, the company offers CAD/CAM services. These applications are used to design a product, and program manufacturing processes – specifically, CNC machining.
Advanced technology
Product Engineering bought its first Joemars wire cut machine – an AWT655S – some 11 years ago, and has now acquired two further machines made by this leading manufacturer. The new additions are the WT5S and the JM430, and these were installed and commissioned by Joemars' exclusive agent in Australia, 600 Machine Tools.
The features of the WT5S wire cut include: machining in the x, y, z, U, and V axes, Windows-based operation, and a very stable power system that increases machining efficiency. There is a special upper/lower wire guide assembly that provides high-speed automatic wire threading in water, and accurate machining.
A simple and reliable automatic threading device enables high precision, accuracy, and ease of operation. And a special anti-leaking system for the low arm enables high accuracy while machining. There is also a hardened stainless worktable that enhances surface rigidity and support for the workpiece.
The WT5S has a precise servo and driver system. Each axis uses high-precision C1-class ballscrew – ground with sub-zero treatment. This treatment ensures machining smoothness and more accurate machining, extends the life of the ballscrew, and provides control of the 'accuracy gap'.
A powerful, responsive AC servomotor allows another option: 'Linear Scales' to create a complete closed-loop circuit control.
Smoothness comes from a new linear guideway, reducing the problem of friction and ensuring stability when machining.
A key feature of the Joemars JM430 EDM sink machine is its 'fuzzy logic' control system that optimises machining conditions, increasing speed, lowering electrode wear, and offering higher quality surface finishes.
Joemars offers a range of table and tank sizes, and also generator capacities.
Long experience in EDM
Wally Nujin is Brisbane Branch Manager of 600 Machine Tools. He says: "Along with tighter tolerances, Joemars multi-axis EDM wire-cut machines can have such added features as multi heads for cutting two parts at the same time.
"Additionally, they can have controls for preventing wire breakage, automatic self-threading features in case of wire breakage, and programmable machining strategies to optimise the operation."
Advantages of EDM include the machining of:
• Complex shapes that would otherwise be difficult to produce with conventional cutting tools.
• Extremely hard material to very close tolerances.
• Very small workpieces where conventional cutting tools may damage the part from excess cutting-tool pressure.
There isn't any direct contact between tool and workpiece. Therefore, delicate sections and weak materials can be machined without perceivable distortion. And a very good surface can be obtained using redundant finishing paths.
Additionally, very fine holes can be attained, including tapered holes. And pipe or container internal contours and internal corners can be achieved down to R 0.001in.
Wally Nujin adds: "As the Joemars agent for many years, we have supplied earlier EDM machines to Product Engineering, and these have proved to be very successful. We believe that these latest, enhanced machines will deliver excellent service in terms of speed, accuracy, and reliability."
600 Machine Tools
02 9674 4738
www.600machinery.com.au