Published 15-08-2019
| Article appears in August 2019 Issue
QUEENSLAND COMPONENT MAKER HAS 5-AXIS AMBITIONS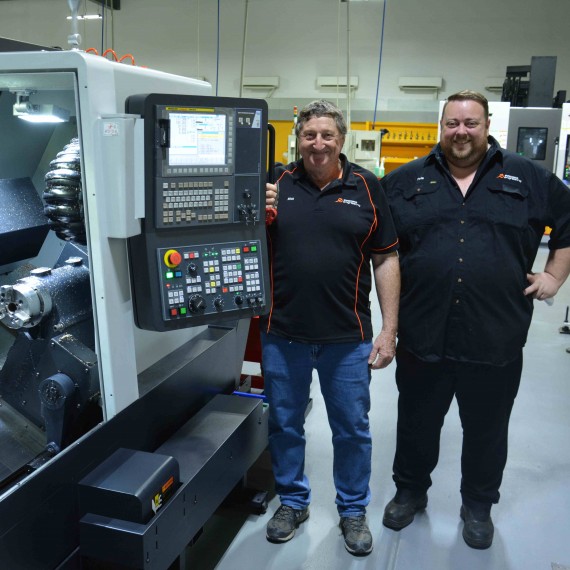 Eastgate Engineering MD Mick Bonanno and Operations Manager Peter Cleary
Nobody would ever accuse Mick Bonanno of a lack of ambition. Nor would he ever be found talking down the future of Australian manufacturing. The Managing Director of Brisbane-based Eastgate Engineering is hell bent on bringing his industry back onshore, and doing so by applying European-style values of quality and efficiency.
Looking around Eastgate's climate-controlled workshop in the Brisbane suburb of Lytton, you cannot but be impressed by the cleanliness of the operation.
The other thing that you notice is the temperature - a consistent 21°C, regardless of the Queensland climate outside - which is greatly appreciated by the 12-strong workforce.
"The air conditioning is a real plus for the staff," says Operations Manager Peter Cleary, "but it's also important for maintaining the tolerances in the work that we do, as well as taking some of the stress off the machinery."
Cleary's point about the climate control benefitting the machinery is an important one, with most of the company's machines operating 16 hours a day.
Locally, Eastgate Engineering has become well known and trusted for component manufacturing and other repetitive engineering covering a range of markets from transport and mining to automotive and electrical. And, countering trends, it isn't only small niche needs that the company services.
Runs of up to 10,000 parts are not uncommon, and one customer relies on Eastgate for 15,000 parts per month.
The company moved into its current custom-built facility at Lytton in December 2018, after a six-month wait for the power to be connected, and immediately set about equipping the workshop with more capacity and greatly increased capabilities.
But that isn't where the Eastgate growth story begins. Mick and Dianne Bonanno acquired the company in 2013. Mick was already familiar with the Doosan family of turning centres, having operated a Puma lathe at his other Queensland-based engineering company. So when the time came to expand at Eastgate he called on Hare & Forbes MachineryHouse to check out the latest range.
It was in 2014 that the first Doosan machine was installed at Eastgate Engineering – and it is still in full-time use, running 16 hours a day. Now, the new premises house no fewer than seven Doosan machines, the latest addition being a VC630/5AX five-axis machining centre. And Mick Bonanno is certain that this will not be the only machine of its type at Eastgate.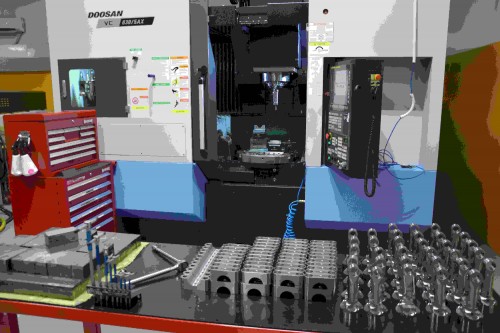 "We're aiming to have more of these machines in the future," he says, "with the intention to become the go-to place in Queensland for five-axis machining."
If that does happen, it will be down to the quality of the work that the 12-strong team at Eastgate are already performing. Thanks to the controlled working environment, the quality and condition of the machinery and the skills of the workforce, Peter Cleary proudly boasts that the team can "happily hold on to 5 micron tolerances".
Those same factors have also seen the company develop extensive experience in working with exotic materials. "There's nothing we won't touch," boasts Cleary.
This quality of production has seen Eastgate Engineering secure significant component manufacturing contracts in highly demanding markets, such as motorsport, defence and aerospace, which Mick Bonanno sees as a major growth area for Queensland with the state slated for the Australian Space Agency's launch control centre.
That focus on the space industry in Queensland has also seen Eastgate Engineering partnering with ASAN on the Live Fire rocket programme, which is providing a welcome boost to STEM training at schools around the state.
In fact training in general is a major focus for the company, which is taking things into its own hands and beginning to develop its own apprenticeship programme.
Peter Cleary bemoans the fact that there is no such thing as an apprenticeship course in CNC machining. "They do fitting and turning, but that's not what we need," he says, and so Cleary and Bonanno are lobbying hard to improve the training available to deal with a rapidly increasing skills void that they see as holding back manufacturing in Queensland.
One saving grace for Eastgate though is that all its Doosan machines use a Fanuc controller, providing consistency of programming when moving from machine to machine. And Cleary is particularly fond of the conversational control features that make the CNC considerably easier to master.
One thing is for sure, Eastgate Engineering does look after its machinery, with twice-yearly servicing for every machine, and this is where the company's relationship with the local Hare & Forbes operation comes to the fore. "The service techs really know their stuff," says Mick Bonanno, "and they're on call for us pretty much 24/7 – not that we need them much."
Testimony to how well the machines are treated is that all seven Doosan machines look brand new. And if it wasn't for a change of colour scheme in the last five years, a casual observer would not be able to tell which one was the first to be put into service.
Eastgate Engineering
eastgate.net.au
Hare & Forbes MachineryHouse
www.machineryhouse.com.au