QUEENSLAND BRANCH TOPS HIRE COMPANY AWARDS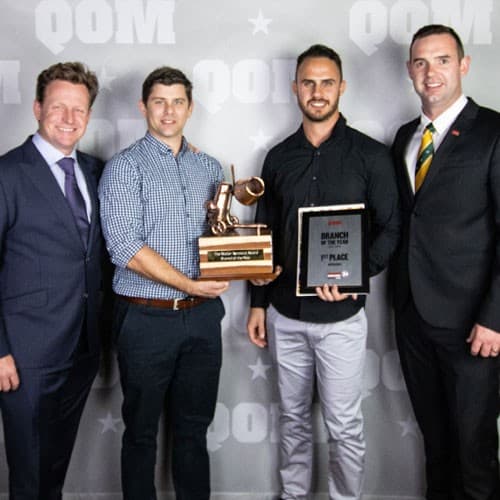 Angus Kennard (left) presents the award to Lee Zanchetta and Alex Hoffman, flanked by Victorian General Manager Lance Hawes
Kennards Hire Beenleigh has been named as the company's Branch of the Year for 2018. The Beenleigh branch in southeast Brisbane outperformed all other Kennards Hire branches across Australia and New Zealand to take out the title.
The metric used to decide the winner is the quality operational management (QOM) score, a measure devised by Andy and Neville Kennard in the late 1960s. This year, the Beenleigh branch achieved a QOM of 97.3% based on its operational standards and customer service.
Lift & Shift Hindmarsh, SA was the runner up and Rail Brendale, QLD was awarded third place at last week's awards night in Melbourne.
Beenleigh Branch Manager Alex Hoffman said "It's a real achievement to receive the Kennards Hire Branch of the Year Award for the first time. We've got almost 30 branches in Queensland so to top the list of those, and then receive the company wide Branch of the Year Award, is really something."
The QOM system has been in use for 50 years at Kennards, and the company now has ten full-time auditors across both Australia and New Zealand, who complete audits three times a year, as well as performing in-branch training, elevated work platform training and competency assessments.
Kennards Hire
kennards.com.au