QUEENSLAND'S FIRST RENEWABLE HYDROGEN PROJECT COMMENCES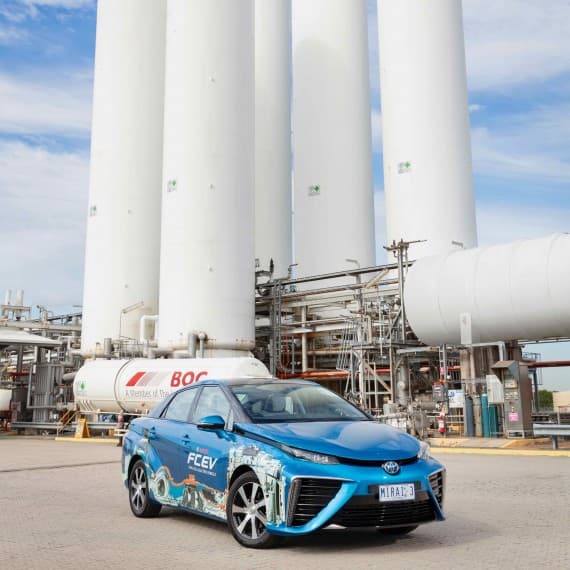 BOC has commenced Queensland's first renewable hydrogen project at its production facility in Bulwer Island, Brisbane.
The $3.1 million end-to-end renewable hydrogen supply project has received $950,000 of funding from the Australian Renewable Energy Agency (ARENA) and is supported by the Queensland Government.
BOC will install a 220kW electrolyser supplied by ITM Power and a 100kW solar array at the site to produce renewable hydrogen by electrolysis. The electrolyser will have capacity to produce up to 2400kg of renewable hydrogen per month to power hydrogen fuel cell electric vehicles (HFCEV) and supply BOC's industrial customers.
BOC will also install a state-of-the-art hydrogen refuelling station at a site in Brisbane, with the capability to refuel HFCEVs in less than three minutes.
BOC South Pacific Managing Director John Evans says the project will leverage BOC's existing infrastructure and expertise across the entire hydrogen supply chain, and support the introduction of hydrogen as a zero-emission fuel in Queensland and other parts of Australia.
"BOC is proud to be establishing a local supply of renewable hydrogen in Queensland that can be easily scalable and replicated across the country," he says. "We will also demonstrate our leading refueller technology that has been widely adopted across Europe and the USA.
"The renewable hydrogen we produce will provide added environmental value to our industrial customers and facilitate the introduction of HFCEVs in Queensland, while supporting our own production processes at Bulwer Island.
"We look forward to working with ARENA and our other partners to create new learning opportunities and build skills for a future hydrogen industry – which are key priorities outlined in the Queensland Hydrogen Industry Strategy and the upcoming National Hydrogen Strategy."
ARENA CEO Darren Miller says the project will help encourage other companies enter the hydrogen market.
"BOC's project is a great example of how current industrial gas equipment and infrastructure can be used to take advantage of the growing hydrogen market," he says. "Producing hydrogen on site will reduce shipping costs, while being able to help grow the local Brisbane fuel cell vehicle market and also meet demand for local industry."
The project is expected to be completed by mid-2020.
BOC
131 262
www.boc.com.au