Quality fittings at an affordable price
31-08-2010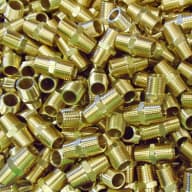 Industrial Fittings Sales Pty Ltd (IFS), a wholly Australian owned and operated company, is Australia's leading manufacturer of brass industrial tube and pipe fittings.
The company is also a wholesaler of many trusted brands including Bondloc, Nitto, SMC, Clippard, Esdan, UNI-LOK, Mikalor and ITAP. 
Established in 1989, IFS has experienced rapid growth.
It now boasts four major divisions – IFM (Manufacturing), Gas Components Australia, Gas Components Industrial and West Coast Fittings. 
The modern IFS QLD sales, distribution and manufacturing operation is located at two sites at Rocklea.
IFS is a proud Australian manufacturer providing quality products conform that conform to strict Australian and ISO standards.
All products are made from high quality raw materials. 
And as an Australian manufacturer, IFS understands the importance of being competitive in a global market. It also understands the importance of providing quality items that offer value for money. 
With an ISO9001 Quality Management System and Six Sigma system firmly in place, IFS is committed to continuous improvement.
IFS provides not only provides customers with high quality products and services, but also outstanding after sales service.