QUALITY AND RELIABILITY ARE KEYS TO TRANSMISSION PARTNERSHIP
11-01-2018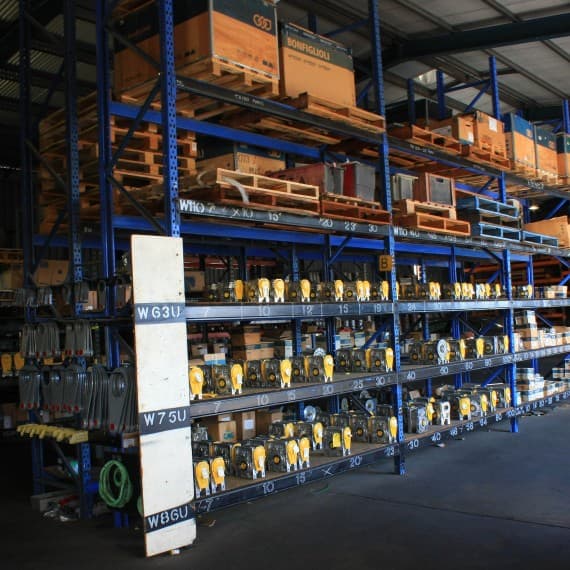 ETA's warehouse has extensive Bonfiglioli stock
Bonfiglioli's partnership with its largest Australian distributor, Engineering Transmission Agencies (ETA), brings quality, reliability and performance to Queensland and Northern NSW customers in industries such as mining, manufacturing, bulk materials handling, food and beverage, water and waste.
ETA has been distributing Bonfiglioli gearboxes, motors and drives for 30 years, and Managing Director, Brian Dwyer, believes it's the quality and reliability of Bonfiglioli products that has made the partnership so successful.
"Bonfiglioli produces high-quality products that we can confidently recommend to our customers. ETA often produces combined equipment, like screw conveyors, and we always use Bonfiglioli for the gearboxes," he said.
"Our customers are happy knowing it's a durable product that will last in the field. The last thing they want is a gearbox to breakdown, causing unnecessary downtime and costs," said Dwyer.
"Our staff have first-class technical expertise and knowledge of the Bonfiglioli range, so customers are always getting the highest levels of service," he added.
In addition to a huge range of Bonfiglioli products, ETA supplies its customers with complementary products, including motors, variable speed drives, chains, sprockets, couplings, vibrators, auger and conveyor components and all associated power transmission requirements. Approximately 75% of its annual $3.5-4 million annual turnover comprises Bonfiglioli products.
Bonfiglioli Managing Director, Malcolm Lewis, sees the ETA partnership as a mutually beneficial relationship of two companies dedicated to high levels of customer service and quality products.
"ETA share a similar customer-centric approach to their operations, which fits in well with Bonfiglioli's corporate ethos," he says.
"Bonfiglioli Transmission Australia combines Bonfiglioli's global drives technology leadership with strong local applications expertise and supply capacity built up carefully over 30 years in Australia," says Lewis.
Bonfiglioli Transmission Australia custom-engineered heavy drives have won national awards for their innovation and response to local conditions, including the Gears, Motors and Drives category at the Bulk Handling Awards, which it won recently for the third year in a row.
Bonfiglioli Transmission (Australia)
02 8811 8000
www.bonfiglioli.com.au