FOR QUALITY AND INNOVATION, IT'S MTI QUALOS
16-02-2016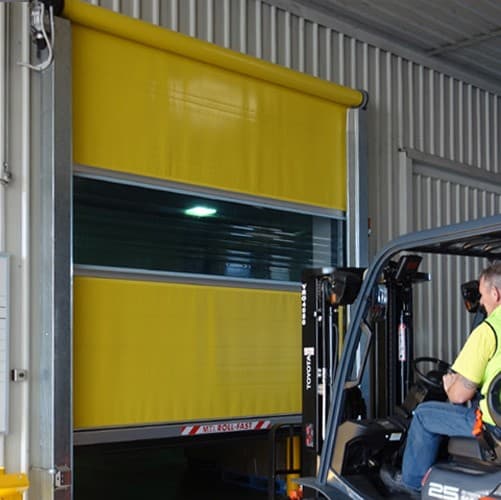 When it comes to industrial PVC doors, MTI Qualos is synonymous with quality and innovation.
This Australian-owned business has a proud history stretching back to 1946, when it began operating as an engineering company.
Since 1970, MTI Qualos has specialised in the design and manufacture of domestic and industrial doors.
The company offers a wide range of doors to suit industrial and domestic applications.
From simple, transparent PVC Strip and Swing style doors to high-speed Roll-Fast Doors, the MTI Qualos design team can custom make a wide selection of styles.
Their high-speed doors are designed to seal out drafts and fumes, making them ideal for temperature-controlled environments.
And with the addition of automatic operation and numerous safety features, they fully comply with all of the latest Australian workplace operating standards.
With its headquarters and manufacturing facility in Melbourne, MTI Qualos provides products and services to clients across Australia.
MTI Qualos continually invests in improved design and manufacturing processes.
Using state-of-the-art technology and the latest computer-aided design techniques, the MTI Qualos team ensures of its products are produced to the highest standards.
Quality assurance is a top priority through all of its processes, to deliver products of superior quality and affordability.
MTI Qualos offers a wide range of quality PVC products, including a large choice of style options for custom doors.
All of its PVC doors are made-to-measure for a perfect fit and smooth operation.
The MTI Qualos team is highly experienced with door design, manufacture, and installation, covering virtually every application.
MTI Qualos custom PVC doors are used in all types of industry applications, from food to heavy industry.
The are draft-free, dust free and safe to operate. Their transparency also offers savings on energy.
Thanks to the sealing effect of the Roll-Fast custom doors, heat is retained and the clear PVC panels save on energy for lighting.
They are ideal for situations where temperature control is desired, such as food storage and refrigeration.
Contact MTI Qualos for a free quote.
MTI Qualos
Ph: 1300 135 539