QLD Safety Show ends on a high
31-08-2010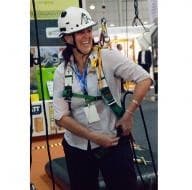 Organisers reported bumper crowds and positive exhibitor feedback at the Queensland Safety Show and CleanScene exhibition in Brisbane earlier this year.
They say the innovation demonstrated by the hundreds of exhibitors during the 3-day show indicated an increase in focus to advance workplace safety and materials handling technologies.
A highlight of the show was a display of unique hand trolleys by Bailey Hand Trucks.
The hand trolleys recently won a Workplace Health and Safety Innovation Award from the Queensland Government Department of Industrial Relations.
The trolleys feature a pivoting easy tilt axle, reducing the effort required to tilt a loaded hand trolley rearward by an amazing 60 percent.
Simply due to a change in the centre of gravity, a load of 300kg feels equal to a load of only 120kg.
Stand Award Winners at the show included:
Ugly Fish Eyewear with Best Stand 18sqm & under
Atom Supply with Best Stand Over 18sqm and
Doka Formwork with Best Stand by a New Exhibitor.
Ugly Fish Eyewear, displayed its range of safety glasses and multi-functional safety goggles, demonstrating durablility and maximum protection.
Atom Supply impressed judges with their vast display of facilities maintenance products ranging from clothing to tools.
And Doka Formwork were rewarded for their display of systematic safety systems, aimed at reducing workplace accidents and increasing productivity as well as safety.
The trade show's free seminar series again proved popular with visitors.
Industry experts like Carl Sachs' (Workplace Access & Safety) attracted capacity crowds for his panel discussion on the need to rethink Australia's safety standards, with a focus on work accidents (prevention, recovery and safe return).
Opportunities are still available to attend the final day of the Seminar Series.
The 45-minute seminars gave visitors some practical advice and solutions to them work toward a safer, more efficient workplace.
Other speakers included Workplace Access & Safety fall prevention specialist Brenton Hampson, who presented a talk on planning and funding investments in safety.
Cristian Sylvestere from Safestart gave attendees some useful tips on "How to build a safety culture from the bottom up."
He presented a behavioural framework that will change the way management thinks about OHS.
The National Cleaning & Hygiene Expo and Advanced Logistics and Materials Handling shows held in conjunction with the Qld Safety Show also attracted large crowds.
It was the first time Cleanscene had been held in Brisbane, giving locals access to hundreds of innovative products and services.
Stuart Nichol, President of the National Cleaning Suppliers Association of Australia, said the cleaning and hygiene industry would benefit greatly by holding the show in Brisbane.
"The Expo gives customers and suppliers a great opportunity to network and educate themselves on what is available in their industry."