QLD LAUNCHES $40M FUND TO SUPPORT NEW STARTUPS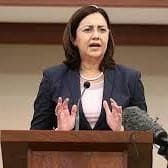 The Queensland government has announced a $40 million co-investment fund aiming to encourage a "startup revolution" in the state.
QLD Premier Annastacia Palaszczuk announced the fund during the CEDA state of the state address last week.
Premier Palasszczuk said the move is designed to "kickstart Queensland's next wave of startups" by turning "great ideas into commercial realities".
"Queenslanders, and Australians in general, haven't had the appetite in the past to provide venture capital to startup businesses," she said.
"In Queensland, my government is changing that."
The fund will match contributions from private investors from $125,000 up to $2.5 million and an independent investment panel will assess each application, with up to $5 million in investments available for startups from the fund.
Ms Palaszczuk says it's all about giving the state's early-stage businesses a launching pad.
"If you build the right business model and meet the criteria, we will back you, because my government has a lot of confidence in what Queensland has to offer," she said.
"If we can show that our best ideas, our best innovations, our best biomedical advances and our best discoveries are business-worthy, then that investment pool will grow.
"We want to lead the way when it comes to investing, to point those angel investors in the right direction."
The fund will be led by the private co-investors, who will select the businesses to back and the amount of money to chip in, with the government then matching this contribution.
Queensland-based startups can apply online from October 27. These applicants will then be shortlisted, with a handful then pitching to the panel.
The startups must be commercialising an idea or product, require seed or follow-on investment, have a realistic chance at being commercially successful and have a shot at creating jobs.
In announcing the fund, the Queensland state government pointed to a similar scheme that was implemented in New Zealand in 2006 – a $40 million co-investment fund that has attracted nearly $140 million in private investments through funding 116 companies, thanks to 14 seed co-investment partners.