Q&A CAN INDUSTRY 4.0 BREATHE NEW LIFE INTO AUSTRALIAN MANUFACTURING?
09-10-2015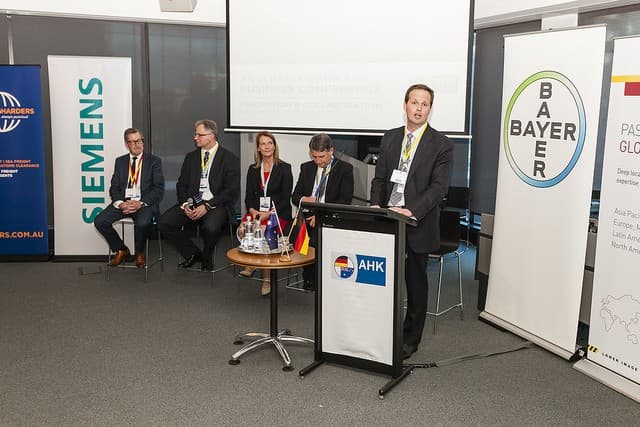 SCOTT MOFFAT, Managing Director of Pilz Australia, a global industrial safety solutions and products supplier, was a special guest at the recent Australia Germany Business Conference held in Melbourne.
Mr Moffat, a senior executive with over 20 years experience and extensive knowledge in the automation, energy, mineral processing and petrochemical industries, was chosen as Moderator for a lively discussion on Innovation in Australian Manufacturing – Is Industry 4.0 the answer?
In this exclusive interview with Industry Update editor TIM MICHAEL, Mr Moffat, explains why Industry 4.0 could be the answer to a successful and robust manufacturing sector in Australia ...
1. What is Industry 4.0?
Industry 4.0 is termed as the 4th industrial revolution after mechanization (1st), electrification (2nd), computerization (3rd). It is a collective term used to describe various technologies that allow the creation of a cyber-physical manufacturing world in which all devices, sensors, plant, machinery etc. are interconnected and the data created can be analyzed and applied in real time. It is the digitization of the manufacturing world and includes such concepts as the Internet of Things and Big Data.
2. Are the majority of Australian manufacturers prepared for Industry 4.0?
No. But it is certainly not too late however Australian manufacturers need to start considering what role industry 4.0 will play for them in the future. There seems to be a lot more traction in Germany and the US on these new technologies right now than what there currently is in Australia.
3. Why should Australian manufacturers embrace it? What opportunities will it bring?
I think it represents a fantastic opportunity to re invigorate Australia manufacturing and allow us to compete on a global scale.  Being a high cost country we will never be competitive in labour intensive manufacturing.  It also gives us the opportunity to develop technologies that we can export across the globe to other Industry 4.0 enabled countries.
4. Which Australian manufacturing sectors are best suited to Industry 4.0?
It is best suited to manufacturing industries that manufacture products that are high value, high complexity or have large levels of customization and/or bespoke engineering. 
5. What is expected of companies that follow Industry 4.0?
There will be a number of areas that will need to be considered but the main two areas will be; the most obvious capital investment decision required to bring businesses into the Industry 4.0 world with regards to their manufacturing infrastructure. However the more important investment is that of the future investment in people to ensure we have the prerequisite skills and knowledge required to implement the new Industry 4.0 technologies.
6. Germany is currently at the forefront of Industry 4.0 … should Australian manufacturers be following that lead?
Germany is certainly at the forefront of Industry 4.0 and the German government is investing heavily in this area.  As result a large number of German based companies are collaborating in this space and are pegging their futures on the advent and global uptake of Industry 4.0
7. How is Pilz Australia planning the transition to Industry 4.0?
Like a number of the German based engineering companies Pilz is investing heavily in Industry 4.0 enabled technologies.  It certainly sees this as the future of manufacturing and hence positioning itself as such.  However being only a niche provider of Industrial automation products our products and services that relate to Industry 4.0 will be very specific.
We are certainly reliant of some of the leading industry heavyweights with regards to the direction and application of some of the technologies and hence we need to also need to be aware and across these at Pilz to ensure our products and services remain applicable.
8. Can Australian manufacturing survive if it does not join the fourth industrial revolution?
I personally don't think so
9. What role should government play in promoting/supporting Industry 4.0?
The government's role will need to be a balance of ensuring it says out of the way of industry and focuses on ensuring it is providing the right framework & business environment for Australian companies to be successful.   But coupled with government investment in areas that stimulate innovation, development & application of Industry 4.0 relevant technologies.  The government investment also needs to ensure that the innovation created in this space can be used by industry and has commercial outcomes.
Another good example is the government supporting locally based manufacturing projects that allow industry to "seed" the infrastructure, skills, technology & experience required to kick start & stimulate various manufacturing industries
10. Were you pleased with the response to the Australia Germany Business Conference and panel discussions?
I was very pleased with the Industry 4.0 panel and its discussions as we had great panelists from a variety of different areas.  We had German engineering Heavyweight (Siemen's), Australian manufacturing global success story (ANCA), the chair of the newly formed advanced manufacturing growth centre (AMGC) and the executive director of the industry group AAMC all providing meaningful insight into the role of Industry 4.0 in the future of Australian Manufacturing.
11. How can Australian manufacturers benefit by attending the conference?
We had a number great Australian & German manufacturing success stories present or join in discussions at the conferences and hopefully attendees got a feel for the common themes from these companies about made them successful and the challenges they faced.
12. Would you encourage more German/Australian companies to register for the next Conference?
Absolutely.