Product News, Materials Handling & Equipment
Published 17-06-2021
| Article appears in June 2021 Issue
Putting materials handling first can avoid last-minute retro-fitting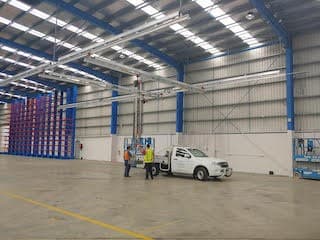 "You'd be surprised how often I come to a plant to quote a job and, after being shown the brand new state-of-the-art multi-million-dollar facility with the latest and greatest machinery, am told that no one stopped to consider how items were going to be loaded into this great machinery," says Tate McFarlane, Engineering Director at Bomac Engineering.
"No one at the planning stage looked over the design of the facility and said 'how are we going to get our items from A to B?' Or they assumed that they would simply use a forklift or similar, only to realise the space being shared by people on foot and the vehicle will cause serious risk for injuries or accidents."
McFarlane reckons that one of the great things about Bomac's Altrac rail system is that in most cases he can design a system that works within the context of what's already there. But that doesn't always result in the most efficient workflow possible once it's all up and running, especially when there is not much left in the budget by the time this problem is identified.
If Bomac had been called in at the planning phase, the team could have worked with the company to utilise the space better to design and build the crane around the intended workflow to maximise efficiency.
Money and time can also be saved on installation if the crane is being put into an empty plant instead of having to work around bulky machinery or storage racks. Once the crane is up, it is completely out of the way of the on-ground equipment so no further time delay or financial cost would be incurred by installing crane first, machinery second.
"I urge anyone planning out a manufacturing, maintenance or even storage facility to first consider materials handling before looking at the more 'exciting' technology you'll be implementing," says McFarlane. "It may be that nothing is needed or you might be set up in a way that a forklift really is the best solution. But if you find that a crane would be best, it's much easier to integrate it from the beginning than to try and retro-fit it at the last minute."
Anyone thinking about moving, upgrading or building new facilities anywhere in Australia is welcome to contact the team at Bomac Engineering in advance to make sure lifting and shifting products won't become a major headache when they should be celebrating their new facility instead.
Bomac Engineering
03 9796 5300
www.bomac.com.au