PUMP SPECIALISTS GO WITH THE FLOW IN SOUTH AUSTRALIA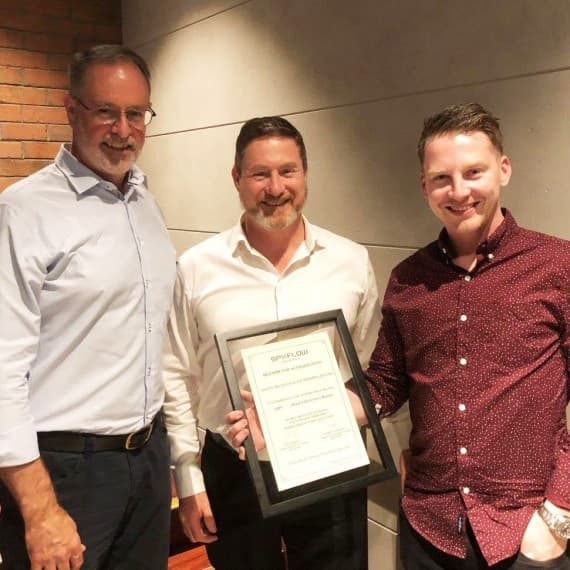 From left to right: Phil Wigzell, AME Business Development Manager, Andrew Anderson, SPX Flow Channel Manager ANZ, and Aaron Blakeby, AME Sales Engineer
SPX Flow has appointed of Assett Mechanical Engineering (also known as AME Pump Specialists) as its new channel partner in South Australia for its APV and Waukesha Cherry-Burrell (WCB) product lines.
Founded in 1981, AME has long served the South Australia region with an excellent reputation for integrity. It will hold stock of spares and components for SPX Flow APV and WCB brand products, including pumps and valves. It has great experience in pumping and valve solutions, highly skilled personnel and facilities in both Adelaide and Whyalla.
According to Jason Westwood, VP Sales SPX Flow Asia-Pacific: "Consistent with our strategy to support customer needs and extend our reach we have accelerated our channel partner programme throughout the region. Our goal is to enhance access to our wide sanitary and industrial product portfolio.
"I am delighted to welcome AME to our partner programme, they have a great deal of experience and strong capability to provide process solutions to the food and beverage industry. Our customers will benefit from their strong local presence in Southern Australia and their reputation for high integrity and great customer service."
AME General Manager Keith Fancsali added: "The APV and WCB product ranges are a good fit with our business and we look forward to working more closely as a channel partner with SPX Flow. I believe this is a great step for SPX Flow and AME customers, who will see the benefits of increased support, rapid response times and ready availability of many essential spares and components, along with the many advantages of the technologically advanced solutions from SPX Flow."
AME has great experience in food and beverage applications, including the wine industry, which is particularly vibrant in this region. Its engineers have been trained in both the selection and operation of SPX Flow products to help customers get the optimum solution for their process.
Andrew Anderson, Channel Manager – Food & Beverage, Australia & New Zealand at SPX Flow, said: "AME has proven capability in South Australia. We are greatly looking forward to working more closely with them to enhance the SPX Flow global support network and to deliver greater benefits to our customers in this part of the world."
AME Pump Specialists
08 8234 2090
amepumps.com.au