PULLERS AND PUMP COME TOGETHER FOR MOBILE MAINTENANCE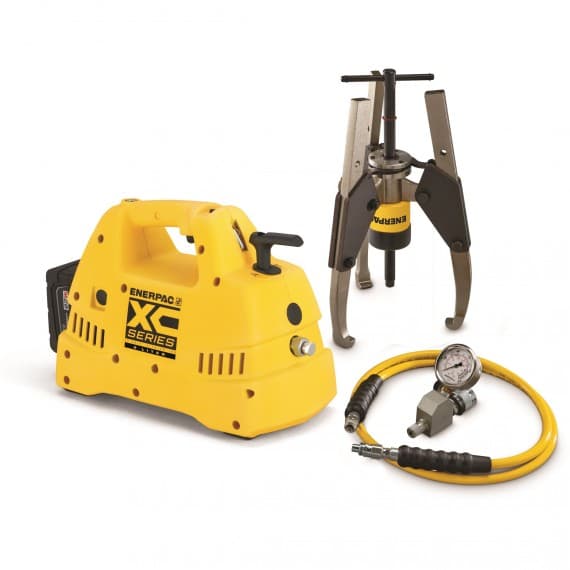 Enerpac has put together a handy portable package that will appeal to maintenance teams tasked with removing bearings, bushings, gears, sleeves, wheels, fly-wheels, sprockets and other shaft-mounted items.
The package combines Enerpac's SG hydraulic pullers in capacities up to 45t with the company's XC cordless pumps, which are powered by 28V Li-ion batteries to provide the performance of an electric pump with the convenience of a hand pump.
The Sync Grip pullers are configured for synchronised movement of the locking jaws for simultaneous engagement. This both improves safety and enables one person to do jobs that often previously took two people.
The XC cordless pumps are constructed of lightweight materials, and include a powerful half-horsepower motor. As an added advantage, the lack of a cord at the worksite improves operator safety by removing the trip hazard.
"The XC/SG combination is ideal for a wide variety of common maintenance tasks either off-site or in workshops where operations staff appreciate the power and precision of safety-first hydraulics that are easy and convenient to apply to sometimes less accessible and potentially jobs," says Darryl Lange, Enerpac National Sales Manager.
Applications for the XC/SG combination include maintenance of fixed and mobile machinery and plant as well as heavy vehicles and rolling stock.
Enerpac Australia
02 8717 7200
www.enerpac.com.au