On the prowl with new Tomcat
31-08-2010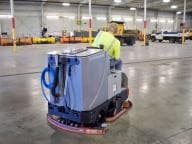 Quality and reliability … the Conquest GTX warehouse scrubber
Conquest Equipment Technologies has again expanded its growing range of cleaning equipment, with the release of the Conquest Tomcat floor scrubbers and EDGE Surface Preparation Technology.  
With combined experience spanning more than 30 years, Conquest is a market leader in floor cleaning equipment.
In today's demanding market they recognize the vital need for equipment that more than meets user requirements.
The new ultra heavy-duty cleaning machines are designed for the most demanding applications.
They are ideal for users who require the best in quality, reliability and guaranteed after sales support.
The Conquest Tomcat floor scrubbers are designed for cleaning large warehouses, mechanical workshops, manufacturing plants and any other rugged applications.
Contact the team at Conquest to book a demonstration.
Conquest Equipment Technologies
Ph: 1800 826 789