PROTECTIVE COATINGS IN THE REAL WORLD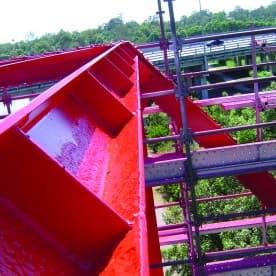 Corrosion costs the economy billions of dollars each year, so it is important for owners and operators of high-value assets to understand the implications of ignoring corrosion and its effects and costs.
There are many advantages of planning for corrosion control and mitigation, including extending the life of an asset, making it more profitable, and reducing maintenance times and costs, increasing its utilisation.
Protective coatings are used in many industries. The longevity of protective coatings varies enormously, with modern coatings capable of providing very high levels of protection, value for money and durability even in the most extreme environments.
To help address industry challenges, the Coatings and Applicators Technical Group of the Australasian Corrosion Association has produced a technical program that focuses on pragmatic considerations and practical and optimised solutions for the coatings and applicators industries.
The one-day event Trips, Tips and Hits – Protective coatings in the Real World will be held on April 4th 2019 at the Royal Society of Victoria in Melbourne and will be followed by networking drinks. This event will bring together all stakeholders to discuss various issues focusing on lessons learnt and exploring both successes and failures across the industries.