PROTECTING THE PORT OF MELBOURNE FROM CORROSION
11-12-2019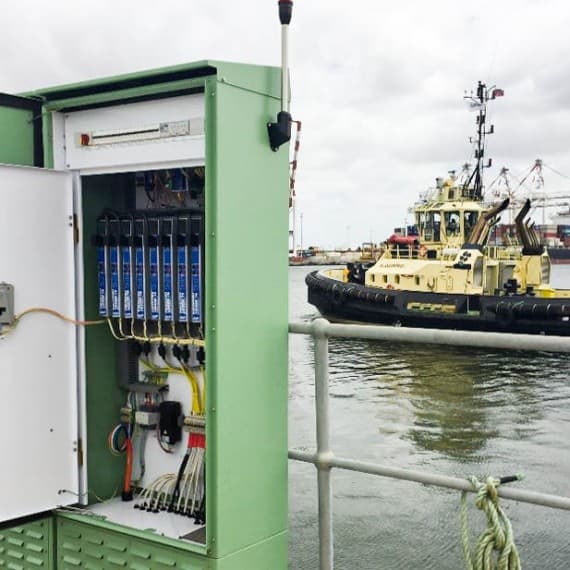 The Port of Melbourne has faced increasing levels of corrosion in recent years, and failure to bring this corrosion under control could lead to structures becoming unsafe and potentially lead to the closure of the port.
Many assets at the Port of Melbourne are at risk of accelerated low-water corrosion, a severe form of localised corrosion. In cases like this, the response time in identifying and addressing any corrosion is vital because it could compromise structural integrity.
To mitigate this corrosion, the port has been fitted with one of the world's largest cathodic protection (CP) systems, comprising more than 700 individually controlled zones of protection and more than 1200 reference electrodes.
CP systems are used to control the corrosion of a metal structure by connecting it to a series of metal alloys that have a more negative electrode potential. By doing this, the structure becomes the cathode of the electrochemical cell and the series of metal alloys become sacrificial anodes that are corroded in its place.
To enable the port authorities to decipher data more efficiently and improve response times, Omniflex developed a "traffic light" CP monitoring system to monitor assets in real time and pinpoint any potential risks or failures.
The traffic light system allows operators to easily check an asset's performance status at a glance, with a red, amber or green light depending on its condition.
Red indicates the asset is unprotected and action is required. Amber indicates a potential problem, but the asset isn't compromised yet. Green indicates that the asset is fully protected.
Omniflex's traffic light CP monitoring system solution allows the port's asset managers to monitor performance in real time. The system combines a user-friendly interface with regular email notifications to ensure asset performance status is communicated efficiently so any necessary action can be taken quickly.
Omniflex Australia
02 8090 2144
www.omniflex.com