PROPOSED SPACE-LINER TO QUICKEN TRAVEL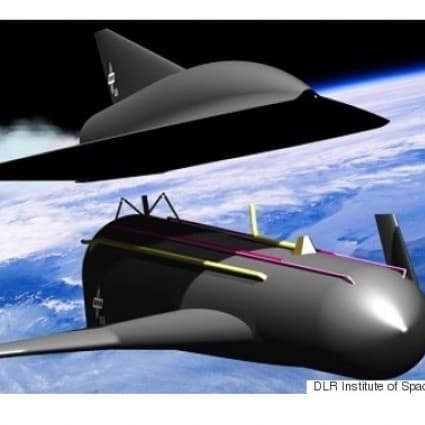 Travelling, whether for business or for personal reasons it is something that can take a lot of time, with the shortest journey from Sydney to Europe being around 30 hours.
Now, German space company DLR has come out with a proposed solution, the SpaceLiner.
The proposed vehicle would be able to move faster than the speed of sound, with rocket engine technology, and have the ability to travel from Europe to Australia in 90 minutes. The liner is designed to be a reusable vehicle that can seat 50 people.
According to the current design plans, SpaceLiner is powered by 11 liquid rocket engines, nine of which will be devoted to boosting the SpaceLiner into the atmosphere.
The project Manager, Martin Sippel, in a information video that the liner will be able to accelerate to 25 times the speed of sound in 10 minutes. 
The liner also includes this nifty safety feature, the passenger part of the craft will be separate from the rest of the liner, ensuring a safety flight home to Earth in the case of an emergency, although how this will be achieved has yet to be explained, nor has the protection from hypersonic heat has yet to be addressed.
Another issue with these sorts of projects is the cost, with rockets being built so far in between it means that they will be extremely expensive. The company claims that the increase in launches per year will reduce cost.
"We could increase hundredfold the number of launches and, as it is a reusable vehicle designed for between 150 and 300 flights, you have serial production of engines. If you have 11 engines per vehicle then you would build 2,000 engines per year or so. That's a huge production run, and that was the motivation." Sippel said to Aviation Week.
The new liner is not expeceted to hit commercial markets for at least another 30 years.