Prolong belt life with Gates' new green machine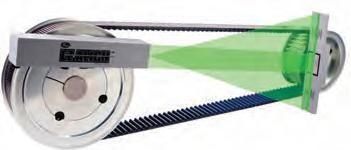 Gates Australia has earned a reputation for supplying the highest quality belt drive systems to industry – including mining, quarry and manufacturing.
An effective preventive maintenance program keeps your facility running safely and at optimum capacity.
Properly maintained belt drives can be your most cost-effective and reliable power transmission solution.
Industrial belt drive performance is negatively impacted by many factors including improper drive maintenance, improper installation, poor design, environmental factors, improper handling or defective components. Aligning and tensioning drives correctly on site will provide customers thousands of dollars saving through reduced downtime and increased energy savings.
With Gates EZ Align precision laser alignment device you can align all your industrial belt drives quickly and easily with just one tool.
Gates EZ Align quickly identifies common types of misalignment, including angular, parallel and third plane misalignment. The EZ Align transmitter emits a thin laser line to the reflector on the opposite pulley, instantly indicating offset and vertical-angle misalignment. The laser line is also automatically reflected back to the transmitter, indicating horizontal-angle misalignment. It magnetically attaches to the inner or outer faces of industrial pulleys (both large and small) to provide quick, accurate drive alignment.
EZ Align is extremely lightweight and compact – a single operator can identify pulley misalignment in minutes. It comes in a durable carry case with no small parts or targets that can get lost.
The new EZ Align green laser is 10 times brighter than the previous red laser version, with better visibility in high ambient light conditions, as well as higher visibility over longer distances – up to 4.5m in length.
Gates EZ Align Green Laser Alignment Tool will prolong belt and pulley life and reduce vibration and belt noise.
Gates Australia
Ph: 03 9797 9688