PROGRAMME AND PROCESS COMBINE TO PROVIDE MODEL FOR SOFT PLASTICS RECYCLING
01-12-2016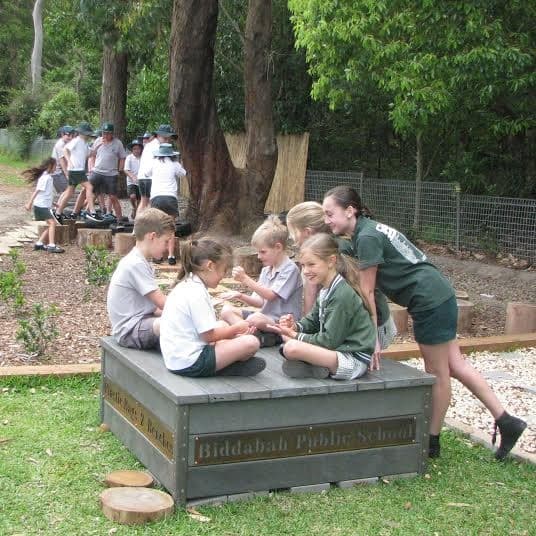 Biddabah Public School students enjoy their new furniture made from recycled plastic film
A ground-breaking collection and recycling process for soft plastics is at the heart of a community engagement programme that has received considerable publicity around the Hunter region of NSW during National Recycling Week.
The Plastic Police Partnerships programme engages with schools, councils, business, government and community groups, to manage soft plastic packaging waste not currently covered by domestic or commercial recycling services.
Pioneered by Hunter-based Cross Connections Consulting, the flagship Plastic Police project involved a 12-month soft plastics collection scheme at Biddabah Public School in Warners Bay.  And besides physically collecting more than 1.1 tonnes of materials that would not normally be recyclable and hence destined for landfill, much of the success of the scheme was in educating the schoolchildren, their families and the wider community in the benefits of recycling.
The soft plastics that were collected  have been processed by Moama NSW based Newtecpoly using the novel PolyWaste Technology.  And to complete the loop, the material collected from the school has been processed into an outdoor bench seat for use at the school.
The originator of the scheme, Samantha Cross of Cross Connections, is keen to see the initiative expand, and has opened up the Plastic Police Partnership Programme to embrace the local community, including commercial and local government participation to support the programme. These organisations are encouraged to support local school communities as part of a shared value programme.  There is also the opportunity for them to review opportunities to collect their own soft plastic waste and to engage with their staff and customers by providing a collection point for communal use.
The key benefit of the PolyWaste process is that it can deal with a wide variety and combination of films (soft plastics), semi-rigid and rigid plastics from multiple commercial, industrial, agricultural and/or domestic waste streams. 
The Collins Mixer-Melter machine used for the process is particularly forgiving. It can deal effectively with low-grade plastics, low-value plastic film and contaminated plastics. Very little pre-processing is involved as the process will tolerate a degree of contamination and soiling on the in-feed plastic, generally eliminating the need to wash the feedstock. And no flaking, shredding, densifying, pelletising or granulating of the materials is required.
The result of the process is a high-quality plastic material that is suitable for a wide range of applications, including outdoor furniture (as the pupils at Biddabah Public School will confirm).
The advent of National Recycling Week gave Cross Connections the perfect opportunity to publicise the Plastic Police Partnerships programme around the Hunter, throughout New South Wales and now nationally.
As Samantha Cross puts it: "The Biddabah Public School project proved to be the perfect test bed to trial and develop a model that we could roll out within the Hunter region and expand to other regions, including regional areas. We now have an innovative community engagement model that is ready to progress to the next stage, with additional projects commencing to prove its scalability within NSW and interstate."
If you would like to be part of the solution to capture soft plastic waste, or learn more about the ways your business can reduce its packaging waste to landfill make contact at www.crossconnections.com.au or www.plasticpolice.com.au