PROGRAMME AIMS TO SPARK ENTHUSIASM FOR STEM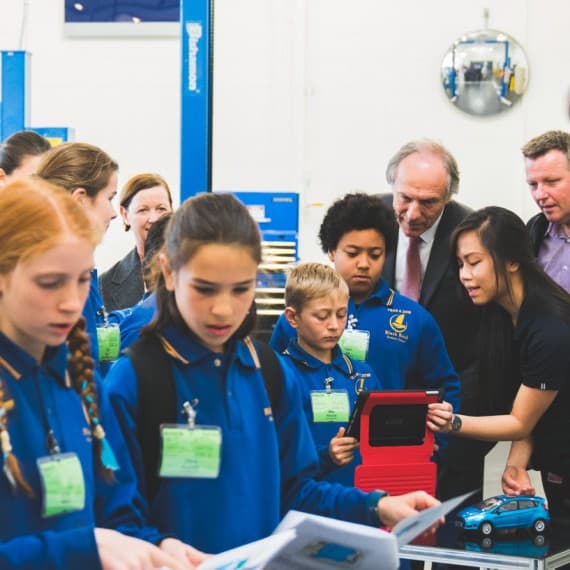 Bosch Australia is throwing open the doors at its Clayton headquarters as part of a programme designed to spark enthusiasm for STEM subjects among Year 6 primary school students. Rather than sending its employees out to lecture in schools, the Learn@Bosch programme will see busloads of school students visit Bosch Australia to experience first-hand industry applications of STEM.
The programme has been structured as an interactive field trip for students that address both the "why?" and "how?" of science and technology. The company has put together a fun and interactive tour featuring augmented reality, highly automated driving, robotics, the factory of the future and 3D printing.
The programme also includes a 45-minute onsite coding class facilitated by the Monash University Chapter of Robogals - a student run organisation that aims to inspire and empower young women to consider studying engineering and related fields.
Present at the launch of Learn@Bosch in Melbourne, Australia's Chief Scientist Dr Alan Finkel highlighted the important role that industry leaders can play in opening doors to opportunity through education.
"The key to inspiring our children to aim high is to let them experience science in a real-world context: tackling problems, improving our lives," said Dr Finkel.
More than 1000 students will attend the programme during 2018, and Bosch is keen to maintain continuing engagement with the students to extend their STEM journey.
According to Bosch Australia President, Gavin Smith, "In a tech company as diverse as Bosch, the learning opportunities are limited only by the imagination."
There are plans for future sessions to include the Internet of Things, smart agriculture and hydraulics - all geared towards sparking enthusiasm for STEM.