PROFESSIONAL TOOLKITS ARE FIT FOR INDUSTRIAL APPLICATIONS
15-12-2017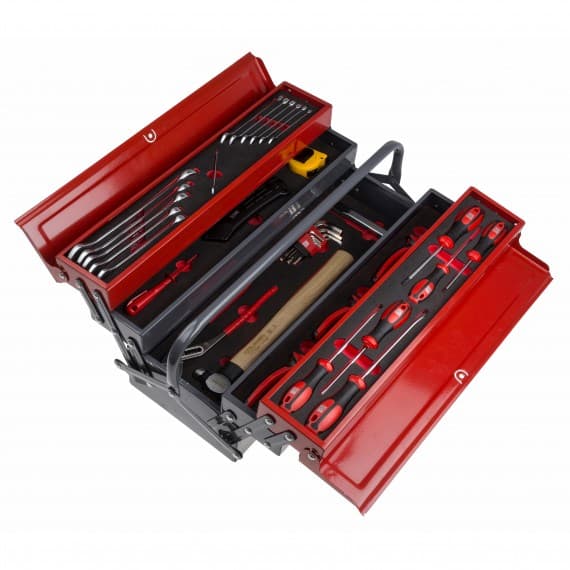 RS Components has introduced a new wider range of toolkits, each designed to support a specific set of requirements, such as maintenance, machine safety, transportation and utilities.
The new RS Pro toolkit series includes offerings for general electronics applications and kits for maintenance engineers, technicians, mechanics and electricians. There are also specialist kits for automotive and high-voltage electrical applications, as well as sets of precision pliers.
Each RS Pro application-specific toolkit has been put together as an ideal starting point, providing engineers and technicians with all the basic tools for a particular industry application. However, they are also likely to prove popular as replacement toolkits for experienced users.
The full range includes: 13- and 32-piece electronics toolkits; 28-, 29-, 32- and 36-piece kits for electricians; 41- and 82-piece kits for mechanics; 25- and 81-piece kits for technicians; 15- and 85-piece field-service kits; a 95-piece automotive toolkit; a 13-piece maintenance toolkit; a two-piece general-purpose measuring set; and two four-piece sets of pliers, including a premium precision set.
The top-of-the-range 95-piece automotive kit (pictured) comes in a portable tool chest and includes hammers, wrench sets, punches, sockets, ratchets, extension bars, pliers, cutters and screwdrivers.
The 36-piece VDE/1000V toolkit for electricians is another highlight. This has been designed for engineers and technicians working on or around live circuits. In addition to electrical tools such as cable strippers and voltage testers, the kit includes VDE-certified screwdrivers and pliers that are individually tested for safe use up to 1000V AC.
The new toolkits are the latest additions to the RS Pro range of more than 50,000 products engineered for manufacturing and industrial environments. All RS Pro products are produced to industrial quality standards, undergo rigorous testing in the RS lab, and are backed by the RS Seal of Approval.
RS Components
1300 656636
au.rs-online.com