Published 30-01-2020
| Article appears in February 2020 Issue
PRODUCTS AND INCREASED SUPPORT UNDERPIN AUSTRALIAN EXPANSION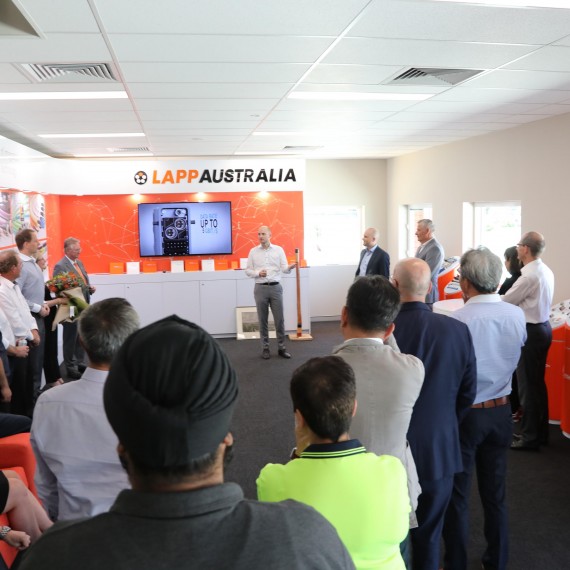 Alexander Lapp addresses the assembled staff
Lapp is expanding in Australia following the visit of its founding family to celebrate the success of the establishment of Lapp Australia.
Lapp Australia, which launched its HQ in at Eastern Creek, Sydney in 2018, is set to expand its operations with additional account managers, for Western Australia and NSW, new product and technical support appointments, and thousands more products available with short lead times nationally.
It will also distribute via its eshop the complementary Wago and Tosibox technologies, says Lapp Australia General Manager Simon Pullinger, who welcomed to Australia the Lapp family company founders and descendants, including Andreas Lapp, Chairman of the supervisory board of UI Lapp.
Pullinger says the expanded availability of 18,000 products online – with live real-time stock checking on the local and German HQ warehouses – will give customers greater access to products and rapid lead times for better planning of future-focused automation initiatives including those taking place locally as a result of Industry 4.0 digital integration.
The global Lapp organisation – with nearly 4000 employees and turnover recently exceeding a billion Euros (AU $1.62 billion) – established Lapp Australia two years ago to serve future-focused industries down under, including manufacturing and plant engineering (including automation, robotics and process engineering systems); electrical engineering systems and energy systems, including wind and solar green energy; machine building and machine tools; food and beverage; automotive, rail and mobility systems; intelligent buildings and infrastructure; and the resources industry, including mining and oil and gas process engineering.
"The Lapp founding family's recent visit underlined their strong commitment to building further on the success of Lapp Australia, with enhanced supply of the world's best quality product in key market sectors," says Pullinger.
The Lapp Sydney Opera House gala function for customers was addressed by Andreas Lapp, who announced that the company would provide $50,000 to bushfire relief, to help parts of NSW that are struggling with one of the worst bushfire seasons on record. Andreas Lapp's nephews Matthias Lapp (Chief Executive Officer) and Alexander Lapp (Global Manager Digital & eBusiness) also attended the event and were optimistic about Australian industry and further growth in emerging markets.
The visit was an opportunity for the family – as the founders of the world's leading supplier of integrated solutions for cable and connection technology – to view the success of the operation and confirm local demand for high performing German engineered products that meet local standards and compliance, says Pullinger.
"The Lapp family has taken a deep personal interest in the expansion of Lapp Australia so as to offer local customers access to Lapp's complete product range, including flexible power and control cables, multicore cables, Ethernet cables, solar cables, cable glands and industrial connectors used by key industries."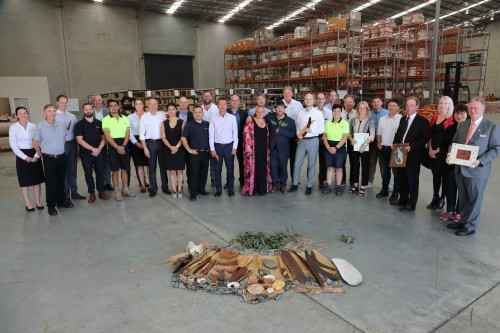 The Lapp family join with Lapp Asia-Pacific leaders and local Aboriginal Darug Elders to celebrate the success of Lapp Australia
New appointments powering expansion in 2020 include: Stephanie Ansley as an additional NSW Account Manager; Scot Rundell as Western Australia Account Manager; Jeremy Lively as new Product Manager; and Chris Keating as an additional Technical Support Engineer.
Lapp Australia's expanding ranges will be exhibited at the Advanced Manufacturing Expo in Sydney from 13th to 15th May, where the company will present a one-stop shop for highly integrated, efficient and reliable systems which comply with the leading Australian, European and American compliance and quality standards.
The family-owned Lapp organisation is renowned globally for its levels of quality, innovation and for its commitment to ethical values and service, qualities that it will bring to key Australian markets.
The family's investment in Australia is a strong vote of confidence in local industry as it increasingly moves into the global industrial automation market, which is forecast to grow to an annual worth of US $350 billion (AU $460 billion) by 2024.
Check out the February/March edition of Industry Update for our exclusive interview with Andreas, Matthias and Alexander Lapp.