PRODUCTIVITY PLUS FOR SAFE MOBILE PLATFORM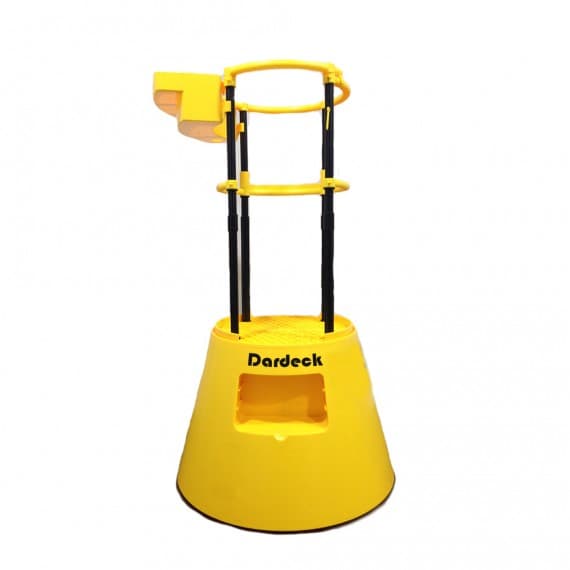 Now available at a one-off price of $400 and with significant discount for quantity orders, the DarDeck safe step platform can pay for itself in efficiency gains. And the improved safety it brings to any warehousing, retail or maintenance environment could save a fortune in workers compensation and public liability payouts.
Designed as a simple and more productive alternative to unstable stepladders and unguarded low work platforms, the Australian designed and manufactured DarDeck combines a solid working platform with safety rails to prevent the user from overbalancing and falling. There is also an integrated shelf to ensure both hands are free when mounting and dismounting.
The unit is highly mobile, rolling on spring-loaded castors that retract as soon as the user steps on the platform, leaving a sturdy and stable base that is wider than the platform. Because of this, the centre of gravity is always within the confines of the base, meaning that the DarDeck cannot topple over as a stepladder might.
Furthermore, the DarDeck features a restraint ring set 800mm above the platform (at hip height for the average adult). The ring clips into place to fully encircle the user once they have mounted the platform.
And while the restraint ring is flexible, rather than rigid, it ensures that the user's centre of gravity does not move outside the circumference of the base, removing the risk of tipping over or falling from the platform.
In maintenance applications, the DarDeck has an integrated shelf that allows the user to safely hand-off tools or goods so that both hands are free while mounting and dismounting as well as while operating on the platform. And there is also the option of a customised tool caddy.
As the unit is made almost entirely from plastics it is nonconductive, and so is a safe work platform for electrical servicing tasks.
According to DarDeck Safety Systems Director, Rob Campbell: "While our new pricing makes the DarDeck very affordable, the Instant Asset Write-Off Scheme provides an opportunity for companies to fit out their whole operations. And saving just one compensation claim would make it fully worthwhile."
DarDeck Safety Systems
07 5511 1411
www.dardeck.com