PRODUCTIVITY PICKS UP WITH KONECRANES INSTALLATION AT BOSCH REXROTH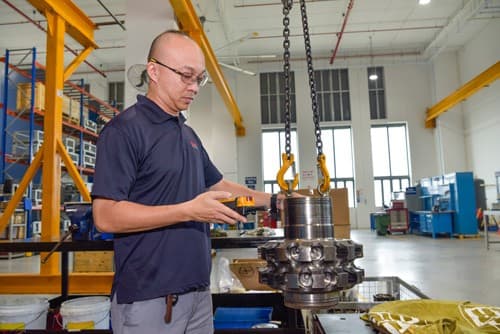 In the wake of pioneering a new Industry 4.0 training centre in collaboration with the Singaporean Government, Bosch Rexroth continues to consolidate its reputation as a productivity leader with the installation of a Konecranes' CXT crane, which can carry loads of up to five tonnes, at its Singapore plant, under the Konecranes RENTALL program.
The RENTALL program, which is available to the Australian and Singaporean markets, involves a fixed monthly fee and covers all maintenance. The Konecranes' TRUCONNECT remote monitoring is included in the package.
Bosch Rexroth – which employs in excess of 30,000 staff in more than 80 countries – selected the RENTALL program to source a high-quality crane with minimal upfront cost and no depreciation costs.
Mr Peter Peh, Head of Department, Central Functions, Bosch Rexroth said Konecranes was a "brand known for its quality" and the installation is expected to enhance efficiency at the Singapore workshop. He praised Konecranes' "safety, reliability and competitiveness."
The RENTALL program "worked very well for our business," Mr Peh Said.
Bosch Rexroth is a global leader in drive and control technologies. Renowned for efficiency, power and safe movement in machines and systems large or small, Bosch Rexroth offers intelligent components, customised systems solutions and services.
Bosch Rexroth products include hydraulics, electric drive and control technology, gear technology, and linear motion and assembly technology, including software and interfaces to the Internet of Things.
Konecranes Pty Ltd