PRODUCT ZONES TO SIMPLIFY NAVIGATION AT NMW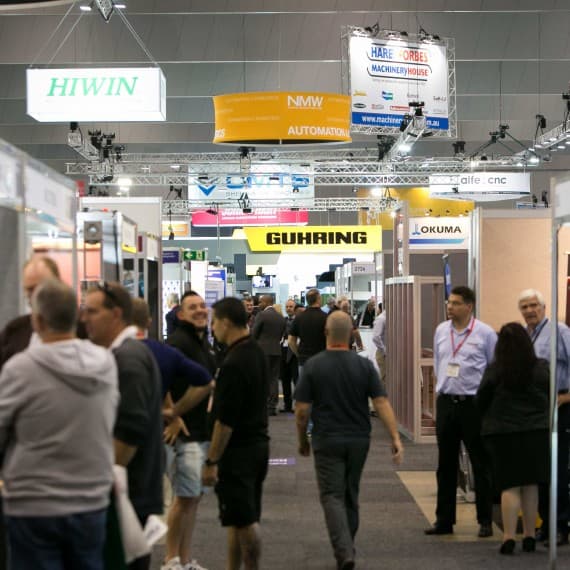 Visitors to National Manufacturing Week 2019 will be able to navigate their way through the exhibition via six dedicated product zones, covering Automation & Robotics, Engineering, Industrial Internet of Things, Safety, Welding Technology and Manufacturing Solutions.
The Automation & Robotics Zone will include exhibitors such as: Gullco, Hiwin, Linak, Pilz, Robotic Automation, Trotec, Universal Robots and Wago.
According to James McKew, Asia-Pacific Regional Sales Director, Universal Robots, "At National Manufacturing Week, we'll be showcasing our new eSeries robots and our new e-Series cobot platform that includes technology that enables faster development for a wide variety of applications, with greater precision and sensitivity afforded by a built-in, tool-centric force/torque sensor.
"Like other Universal Robots offerings, the new e-Series offers unparalleled convenience. It takes just one hour to unpack the cobot, mount it and program the first task. End users with complex applications and diverse or uncertain future needs will benefit from the e-Series platform and our unique Universal Robots+ ecosystem knowing that their investment will be able to grow with them as their needs change."
The Engineering Zone will feature a wide selection of industrial suppliers for manufacturers looking to source the latest in engineering technology to support their smart factory and Industry 4.0 implementation plans, including Excision, BVE, Dynacast, Elliot Engineering, Faro, Kobot Systems, Peak Industrial, Profifeed Technologies and Prytec Solutions.
"Excision is the specialist in premium quality industrial cutting and drilling," says Dirk Howindt, Sales & Marketing Manager, Excision Australia. "With bandsaw blades at the core of our offering, we also offer a range of coolants, metal working fluids, cold-saw blades, TCT blades, magnetic drills and cutters.
"At National Manufacturing Week, we'll also be showcasing our Allclear Fume Control offering, which provides insight into the latest development and technology to keep workplaces free of welding fumes, dust and other contaminants."
Visitors to the Industrial Internet of Things Zone will have access to the latest Industrial IoT solutions from exhibitors such as: Epicor, 4PS Software, CAD Group, Central Innovation, ECI Software Solutions, Freshworks, Gemu, Kronos and Syspro.
Rob Stummer, CEO of Syspro Australasia, comments, "Implementing IoT technologies opens a world of infinite possibilities for manufacturers. Not only will it facilitate more streamlined and automated business processes, thereby reducing the need for human intervention, it will also improve service delivery, and enhance customer experience.
"National Manufacturing Week is a great platform where we can focus on strengthening the future of manufacturing, by sharing knowledge and creating business networks that help others to unlock the full potential of their business. This is a major event on Syspro's Australian calendar."
Exhibitors within the Safety Zone at NMW will offer visitors the latest technology, products and services to improve their WH&S standards, safety process compliance and reduce accidents.
Exhibitors include: Atom, Axelent, CSA, Kemppi, SafetyMate, Tunstal, Vanguard Wireless and X-Pak.
Drew Hoxey, National Sales Director for Australia and New Zealand at Axelent, is looking forward to showcasing the new range of McCue pedestrian barriers.
He says: "The McCue range of Pedestrian Barriers and partitioning systems are designed for any industry that has a warehouse, logistics centre, manufacturing facility, pedestrian or forklift zone."
The Welding Technology Zone will host exhibitors such as Air Liquide, BOC, Gullco, Kemppi, Lincoln Electric, Lorch South Pacific, Tesuco, Supagas and Weld Australia.
"Weld Australia will have an Advanced Welder Training Hub on the exhibition floor which will showcase the augmented and virtual reality technology that is revolutionising welder training here in Australia, and around the world," says Donna South, Marketing and Communications Manager at Weld Australia.
"Attendees will have the chance to see and try a range of different welding simulators, which are making welder training and upskilling safer, more cost-efficient and engaging for new and experienced welders."
In the Manufacturing Solutions Zone visitors will be able to source solutions to improve productivity and cost effectiveness across all types of operations from exhibitors such as 3M, BAC Systems, Combilift, Duromer, Itelli Particle, Millsom Hoists, Rose Plastic and Saint-Gobain Abrasives.
Virginia Murphy, Business Manager, 3M Industrial Adhesives and Tapes Division, Australia & New Zealand, says: "This year at National Manufacturing Week, we'll be launching 3M Scotch-Weld DP 6310 which enables optimal stress absorption and highly durable bonds with minimal preparation between medium to high energy surfaces and 3M Scotch-Weld DP8407NS, which offers fast-curing bare-metal bonding and resilience in temperatures from -40 to +204°C."
National Manufacturing Week will take place from 14th to 17th May 2019 at the Melbourne Convention & Exhibition Centre. Free advance registration is available at www.nationalmanufacturingweek.com.au