Published 18-04-2019
| Article appears in April 2019 Issue
PROCURING THE WORLD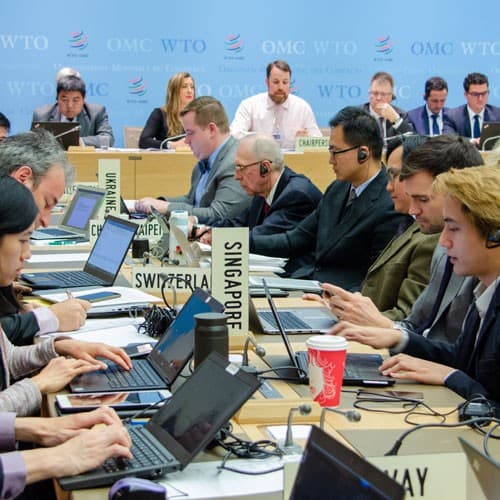 The WTO Committee on Government Procurement met on 27th February 2019
After protracted negotiations, May 2019 will see Australia join the World Trade Organisation Agreement on Government Procurement as the 48th member. The deal opens government procurement markets between all members who have acceded to the agreement – estimated to be worth around Au$2.3 trillion each year.
Signatories to the agreement include the 28 European Union nations as well as the USA, Canada, Norway, Japan, New Zealand and Chinese Taipei. (The UK has already secured individual membership in the event of Brexit.)
Under the GPA, Australian businesses will have significantly expanded access to government procurement opportunities internationally, including markets were Australia does not have current free trade agreements. This includes seven additional US states not covered under the Australia-USA FTA.
Ai Group Chief Executive, Innes Willox has welcomed the deal, pointing out that it "includes industries in which Australian exporters have comparative advantage such as construction and highway maintenance equipment; mining equipment and technology; agricultural machinery and equipment; water purification and sewage treatment equipment; environmental goods; and health and pharmaceutical supplies."
However, the deal does cut both ways, and while it expands Australian companies' access to overseas markets, it provides similar privileges to overseas companies in accessing Australian government procurement markets.
The Department of Foreign Affairs & Trade is at pains to point out that GPA requires no changes to Commonwealth procurement policies or programmes that support Australian businesses, including the Indigenous Procurement Policy. Local businesses and jobseekers will also continue to benefit through Australian government procurement contracts.
Says Willox: "The carve outs that the Australian negotiators have secured will ensure that our SMEs and Indigenous-managed businesses will continue to have access to the Australian government procurement market, and we will continue to protect the supply to our essential services, such as security, defence and government communication."
However, the Labor opposition, while welcoming the deal has publicly stated policy that favours local suppliers.
According to Senator Kim Carr, the Shadow Minister for Innovation, Industry, Science and Research: "While value for money for the taxpayer will continue to be paramount, a Shorten Labor Government will put greater emphasis on buying local, employing locals and supporting economic activity - particularly in our regions. This is consistent with all of our international agreements."
Interestingly, there are nine further countries currently negotiating to join the GPA, including the People's Republic of China, whose total procurement market alone is estimated to be worth up to US$2.5 trillion.