PRINTER SHOWS OFF CUSTOM MODELS ABROAD
04-05-2018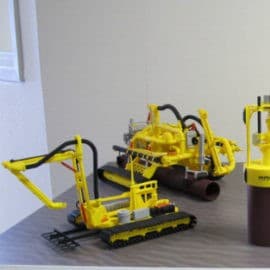 3D printing company 3D Systems has gone overseas to show off its high-quality production values, helping Netherlands-based company Seatools to showcase its custom designs at the Offshore Technology Conference (OTC) in Houston, Texas.
Using detailed and precise 3D printing techniques, 3D Systems was able to produce and ship visually impressive models of Seatool's custom equipment. 
Dedicated to the design and manufacture of custom equipment for solving subsea challenges, Seatools was able to display these high-fidelity models of its subsea excavation designs at the OTC. 
The OTC is the largest event in the world for the oil and gas industry, attracting over 2300 exhibitors a year, so it was important the companies made an impression.
Utilising 3D Systems' On Demand Manufacturing (ODM) services, Seatools was able to display seven distinct 3D-printed models of its underwater technologies. It was of utmost importance the models arrive on time and without damage.
"It was very important to me that the models arrive in Houston in one piece," said Johan Sol, a member of Seatools' advisory board.
"The 3D models had to be transported by freight, and we knew from other scale equipment models in the past that they endure a lot of shock loads.
"After a dialogue with 3D Systems' On Demand Manufacturing experts in the Netherlands, Seatools confidently opted for high-strength nylon 3D prints produced on 3D Systems' sPro 230 SLS machines in DuraForm PA."
The models were delivered on time, unscathed and played a significant role in Seatools display.
"The subsea landscape was really an eye-catcher," said Sol. "It drew a crowd and helped introduce us to new companies to start building new relationships."