PRINTED TITANIUM PARTS ARE UP TO SCRATCH FOR AEROSPACE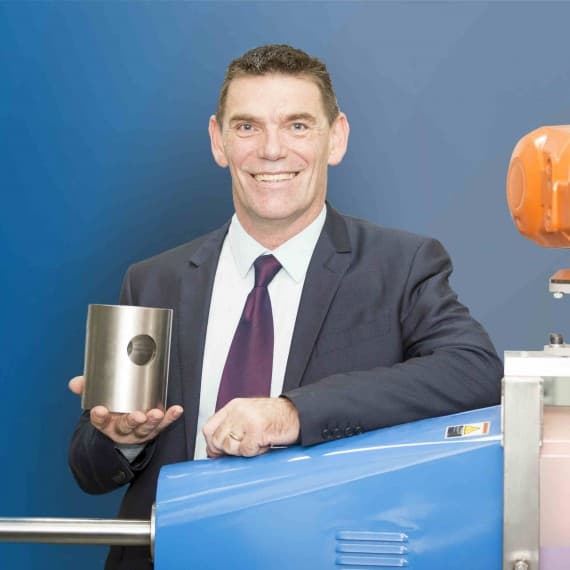 Titomic MD Jeff Lang: "...test results provide validation"
Titomic is reporting outstanding test results from the $2.6 million research project to develop its Titomic Kinetic Fusion (TKF) certification standards. The project is supported by the IMCRC, with research carried out by CSIRO and RMIT.
TKF is a patented metal 3D printing process for creating super-strength super-lightweight metal structures that are commercially viable in comparison with traditional manufacturing.
A year into the project and the TKF process for additive manufacture of titanium parts using CP titanium grade two powder has achieved ultimate tensile strength (UTS) of 634MPa. (This is 83.8% higher than the 345MPa benchmark set by ASTM International.) The process has also achieved an increased elongation of up to 27.7%, which is 38.5% higher than the 20% set by ASTM International.
This provides evidence that Titomic Kinetic Fusion has the fatigue resistance and strength requirements for aerospace and other industry applications, while far exceeding the minimum ASTM International standard requirements.
The primary objective of the 2-year research programme is to develop new industry standards for fatigue, crack growth, and fracture toughness of titanium complex-shaped structures produced using the TKF manufacturing process as further validation for additive manufactured parts for aerospace.
According to Titomic MD Jeff Lang: "These test results not only provide validation to industry of titanium parts produced using our TKF process, but more importantly the research conducted across multiple titanium powder supply chains secured by Titomic outlines why we placed so much emphasis on securing feedstock powders with industry leading companies to capture the entire value chain surrounding our technology whilst meeting ASTM International standards."
Titomic
1300 108 122
www.titomic.com