PRINT PARTNERSHIP RACKS UP A DECADE AND COUNTING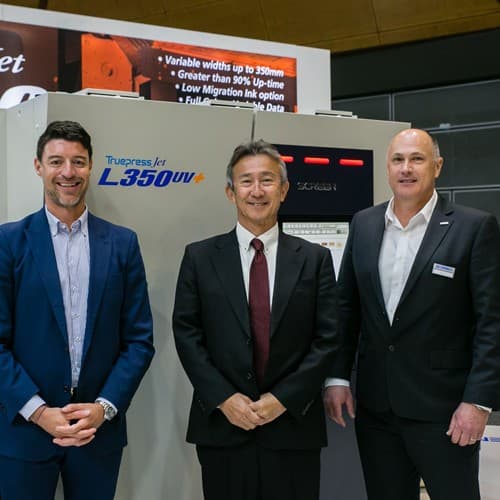 Celebrating ten years: Jack Malki (l) with Peter Scott (r), Yukiyoshi Tanaka and the new Truepress Jet L350UV inkjet label press
Jet Technologies and Screen GP have recently celebrated 10 years of a successful partnership.
While Screen GP is noted as the market leader in the field of computer-to-plate (CtP) devices for the offset print market, when the company developed a range of CtP devices aimed at the flexographic print market, it turned to Jet Technologies to distribute them.
"Screen GP is renowned for manufacturing and supporting great equipment, but locally our expertise lay in the commercial offset market," says Peter Scott, Managing Director at Screen GP. "When talking to label convertors in 2009, it quickly became obvious we needed some help and that is when it all started with Jet Technologies.
"Since then we have combined our strengths to steadily grow our number of satisfied customers with our flexo CtP and inkjet label presses," he continues. "Screen GP is very happy with the partnership and we look forward to building on our success over the next 10 years."
Combining Screen GP's engineering and technical service with Jet Technologies' market and application knowledge in the flexographic market, the partnership was a success, with installations across Australia, and more recently in New Zealand and Indonesia.
When Screen GP launched its Truepress Jet L350UV inkjet label press, the partnership progressed, and Jet Technologies has provided substantial input into the features and performance of subsequent models and upgrades.
"In a world of fast-changing partnerships, it's refreshing to play a role in a partnership that continues to strengthen over the years and remains focused on customer service," says Jack Malki, Director, Jet Technologies. "The relationship we share with Screen GP is based on absolute trust and a great deal of respect, which is evident to all of our clients who reap the rewards of how seamlessly both of our companies work together."
Jet Technologies
02 8399 4999
www.jet-ap.com