Published 02-04-2019
| Article appears in April 2019 Issue
PREVENTION IS BETTER THAN DESTRUCTION IN THE WAREHOUSE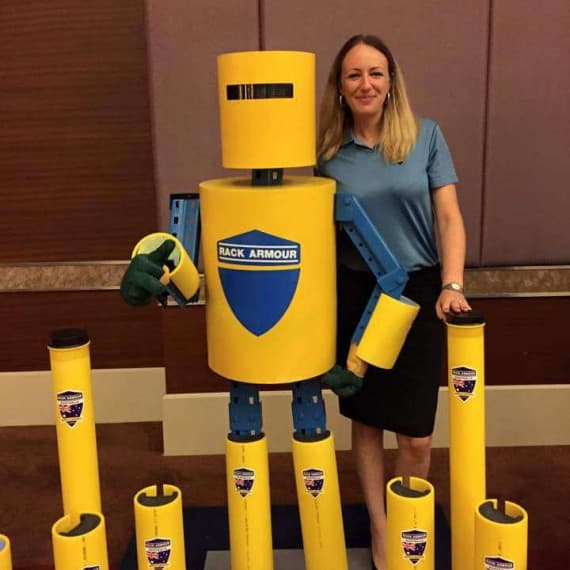 Do you service your company vehicles and forklifts? Of course you do. Maintaining your vehicles provides assurance that they will continue to run the way you need them to, as well as minimising the danger of having to spend thousands of dollars in major repairs or replacement of parts.
The same applies with pallet racking protection. A small outlay on racking protection will protect your asset from expensive repair bills.
If a forklift damages an unprotected racking upright, rendering it unsafe, not only is time now focused on unnecessary spending to repair or even replace the upright, the down-time and hassle could possibly have been avoided. Then the question always comes back: should you have installed racking protection in the beginning to prevent the inevitable?
Rack Armour Australia has been manufacturing pallet-racking protection for more than a decade and understands how important it is for businesses to protect and maintain their assets.
Based in Chipping Norton NSW, the company's range of upright protectors is readily available and presents a simple solution to rack damage – one that has saved companies thousands of dollars in rack repairs.
However, not all upright protectors are this effective. The patented Rack Armour design has come a long way over the years, and has proved that traditional steel protection is not necessarily the better option.
The effectiveness of the product is in its design. The outer shell is manufactured from an extremely tough polymer that can withstand significant impact and has the persistence of shape to give ongoing protection after the unit reverts to its original form. The compact design is unique in that the curved edges deflect the impact away from the rack face.
The foam inner acts to reduce inertia from any impact and diffuse the force along the whole length of the unit, rather than being concentrated at the point of impact.
In 2011, Rack Armour was chosen for racking protection by The Australian Antarctic Division. Protecting stock, avoiding pallet racking repairs and replacement in such a remote location is essential, and it certainly helps that Rack Armour is capable of performing at temperatures as low -40°C.
Throughout Thailand, the Rack Armour product continues to protect racking for leading organisations including DHL, Tesco and Mitsubishi. And here in Australia Rack Armour has been chosen by some of the country's leading pallet racking companies as their preferred choice of rack protection.
Rack Armour is Australian made and it works. And with EOFY approaching, this might be a good time to invest in protection to protect your valuable assets.
Karen Varian is with Rack Armour (Australia).