Prestigious award for NACCO chief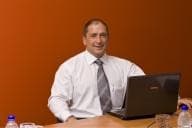 NACCO Materials Handling Group's (NMHG) Asia-Pacific Region managing director Andrew Satterley, has won international recognition for his business achievements. 
Earlier this year, International business network, Stanford Who's Who, named Mr Satterley as an Executive of the Year for leading corporate growth through many years of formulating and successfully implementing strategic and operational plans.
The recognition is for achievements over 25 years across materials handling, access equipment and logistics in a wide variety of markets such as building construction, mining, manufacturing and government.
Mr Satterley joined NMHG as the Sydney-based MD of the global materials handling equipment specialist's Asia-Pacific region in July 2011 and has embarked on a comprehensive growth program for the company's Yale and Hyster brands.
He previously played major roles in business transformation processes with well-known companies Crown Equipment Corporation, Linde Material Handling and most recently as Vice President of Sales, Marketing and Customer Support for JLG Industries. 
Mr Satterley is responsible for planning and implementing strategic financial management, marketing and sales systems to help drive regional growth for NMHG. 
NACCO Materials Handling Group, Inc, the parent company for Yale and Hyster, is a global leader in the industry with manufacturing and technology centres around the world producing quality components and assembling complete trucks. 
NMHG is headquartered in Cleveland, Ohio and is a wholly owned subsidiary of NACCO Industries, Inc. 
NACCO Materials Handling Group
Ph: 02 9795 3057