PRESTAR WORKTAINER COMBINES QUALITY AND VERSATILITY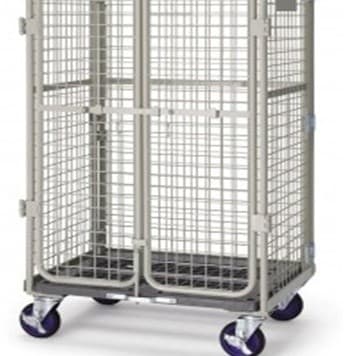 The Prestar Worktainer is not your average stock trolley.
Made in Japan, the Worktainer enables you to transport a large number of items with the ability to nest the units when not in use.
The Worktainer is designed to provide flexibility to your individual workplace, while providing superior performance and usability.
The versatility of the Worktainer gives it a home in most businesses from road transport and warehousing to hospital loading docks.
The best part is when it is not in use the Worktainer can nest away in the corner or take up less precious space on your return journey in a truck.
The base plate on all Workatainers are plastic, which significantly reduces noise in use, folding and setting up, this reduction is as much as 5db. A unique feature of the plastic base is its lightweight for easy operation and allows an increased volume to be loaded on to the trolley.
The finish on the Worktainers is outstanding. It comes painted with a double coating of cation electrodeposition and TGIC that provides superb anti-rust performance and maintains strength and cleanliness.
The double coating paint maintains the durability and appearance of the Workatainer, while providing superb rust prevention and weathering performance, even in harsh environments.
The TGIC powder coating provides strength up to 10 times higher than a melamine baked finish resulting in minimal degradation of gloss, even in outdoor use.
Utilizing technology from hand trucks, wheels equipped with high quality bearings are used for the casters that support the footing of the Worktainer, this is to achieve quiet and smooth transportation and the proven Prestar reliability.
Your desired movement can be achieved by combining a wide variety of casters – swivel, fixed and pedal brake casters.
The Prestar Worktainer boasts a large number of models and sizes including doors, adjustable shelving, locks and security tops to suit a broad range of applications.
The Worktainer is backed by a 5 year warranty and is competitively priced.
Warequip, the importer of the Prestar brand into Australia, has dealers Australia wide.
Warequip
Ph; 1800 337 711