PRESSURISED WATER IN A PORTABLE PACKAGE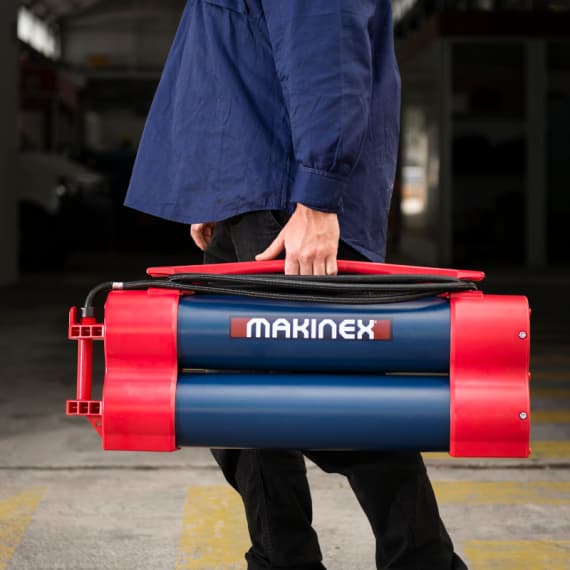 The newly released Hose 2 Go is a unique and simple game-changer for tradies.
Creativity, innovation, and simplistic design have come together to make contractor's lives much easier with the launch of Makinex Construction Products' Hose 2 Go.
Developed in Australia and designed with clever internal mechanics, the Hose 2 Go differs from any other products on the market as it provides a constant pressurised water flow for up to 30 minutes without the use of a pump, battery or electronics.

Once the unit has been filled from a tap, the portable water supply unit allows users to suppress dust and keep the blade cool when cutting, core drilling and grinding concrete. Its rugged construction and 13.8 litre capacity ensures there is no need to drag hoses around the worksite; the portable unit weighs under 20kg when full.

Most tradies will know that this is an absolute game-changer in how they work day-to-day; no more having to find a water source every time they drill, no more manually pumping and no more batteries going flat.

There are uses for the Hose 2 Go across all industries, but it will be particularly useful in plumbing, flooring, core drilling, concrete cutting and washing down equipment after use.

Makinex founder and award-winning designer Rory Kennard has more than a decade of experience in designing and overseeing production processes for solutions to the construction, landscaping, equipment hire, infrastructure and related industries.

Kennard says their investment into Research and Development and passion for increasing productivity in the construction industry leads them to game-changing ideas.

"We're passionate about changing the way people work to be more efficient and safe, and what was apparent was that construction workers were constantly having to find a water source every time they drill, or they required one person to pump while the other did the cutting, which is a time wasting exercise. It's like pouring money down the drain."

"Hose 2 Go has had amazing feedback on site.  If we're increasing productivity, and giving tradies tools which make their lives easier then we've done our job."

"We really feel this is the most innovative product to hit the construction industry for a long time and we're very excited to introduce it to the market".
The innovative company, who have offices in Sydney and Los Angeles, have invented over 13 products since its inception in 2004.  Biggest sellers include the Makinex Dual Pressure Washer, Jack Hammer Trolley, and its Powered Hand Truck, which won Safe Work Australia's 'Good Design' Award earlier this year.

Makinex
1300 795 953
http://www.makinex.com.au