PRESSBRAKE AND FIBRE LASER EXPAND IN-HOUSE MANUFACTURING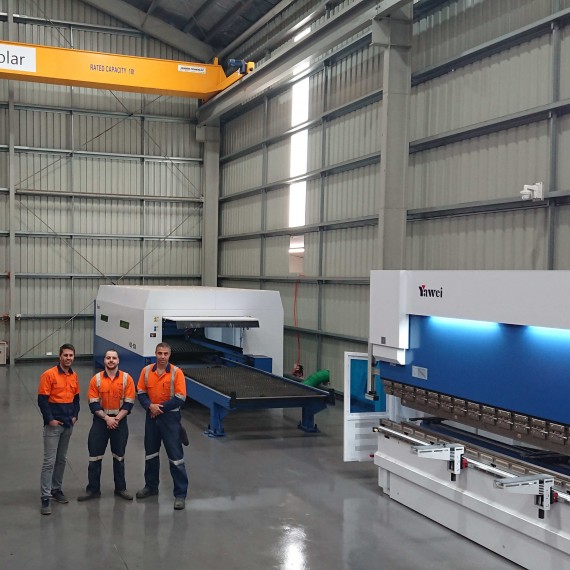 Traralgon-based DJN Switchboards is a manufacturing success story in a regional area that has suffered with high unemployment in recent years. Established in 1994 by David Nabulsi and his wife, this specialist manufacturer of switchboards and switchrooms has taken advantage of the latest machine technology to boost its capabilities and efficiencies in this area.
David Nabulsi is an industrial electrician by trade. He set up DJN Electrical primarily as an electrical contractor specialising in industrial controls and industrial electrical work. However, in 2000 he spotted an opportunity to start building switchboards and built a specialised workshop for switchboard manufacturing from which DJN Switchboards was born.
The first switchboards used enclosures that were pre-manufactured by external companies. But early in 2017, Nabulsi decided to establish his own sheet metal department to enable him to produce the cabinets and assemblies in-house.
"We wanted to build our enclosures in the most modern way possible – I bought a CAD designer on board to design our own cabinetry and looked at what CNC pressbrake and laser cutter we would buy," he said.
"We ended up selecting the Yawei brand, not only because it was an excellent product that offered great value for money, but for the experience and support that Applied Machinery could offer," he added.
"The service aspect is something that is absolutely crucial to me, and the service we received from Applied Machinery during the pre and post sales process and the ongoing backup and support that we've had has been excellent," Nabulsi went on to say.
The combination of Yawei's 7-axis 160 tonne pressbrake and HLE fibre laser has also allowed DJN Switchboards to build entire switchrooms in addition to switchboards. Using the CAD software, a design is set and the necessary files produced - the Yawei fiber laser and pressbrake then work in tandem cutting and then bending to produce the required product.
"Because we're custom building, the accuracy and quality of the cut is very important. Our primary markets evolve from quarry and mining applications, so the majority of our work is based on using 2mm stainless steel to a 2B finish. The Yawei fibre laser excels in this area enabling us to produce cabinets of the highest quality."
"The purchase of the Yawei equipment has also allowed us to tender on larger jobs confident that we have the in-house capability to do this work," Nabulsi went on to say.
The other benefit with the Yawei fiber laser is that it uses the latest cutting technology. The HLE allows for the option of using compressed air rather than expensive assist gases like nitrogen and oxygen – ultimately saving significant money.
In addition to switchboards and switchrooms, the other major part of DJN's business is automation and control engineering. The company builds the computerised control systems for industrial plants, quarries and mining applications and now employs a total of 15 staff. The company is also looking at investing in new innovative solar technology including off grid battery storage systems.
"Essentially we have brought the latest high tech manufacturing technology and efficiencies to regional Victoria allowing us to compete and stay ahead of the game; that's something I'm really proud of," Nabulsi concluded.
Applied Machinery
03 9706 8066
www.appliedmachinery.com.au