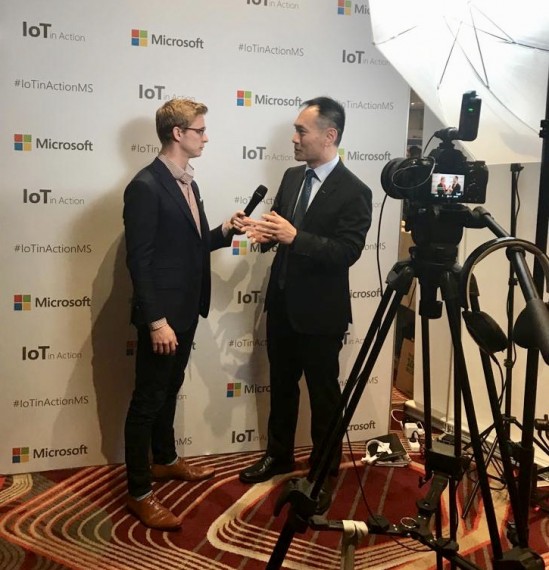 Henry Zhou (right): "When we work together seamlessly, the customer wins"
Omron Electronics, a world leader in the Internet of Things, industrial automation, artificial intelligence and robotics, assists business in a broad range of industry sectors with their digital transformation, in order to grow revenue and profitability. Its ground-breaking technology is being used to capture operational data from machines and instruments to the Microsoft Azure platform, giving companies end-to-end manufacturing visibility and improving efficiency through automation and robotics.
Microsoft's IoT in Action is a global event designed to assist businesses in making a seamless digital transformation. At the event in Sydney in March, Omron Oceania Director and General Manager Henry Zhou gave visitors an insight into how IoT can transform their business models, add customer value and increase profitability.
Zhou was one of the four expert speakers at a keynote presentation on Transforming Your Business. The presentation featured a showcase of the latest IoT technologies, including Omron's latest collaborative TM robot and a display of its Overall Equipment Effectiveness automation solutions.
Omron now offers 50,000 IoT device types and aims to double that amount in the next few years. Operational technology, including automation and robotics, is developed and manufactured by Omron, with information technology support from Microsoft.
Omron has itself been undergoing digital transformation in its factories globally since 2014. Zhou explained how the company uses its IoT technology to visualise and analyse its factories and reveal hidden losses in availability, performance and quality.
"Naturally, the second step is to fix these issues," he said. The benefits have been huge, delivering a massive return on investment. "Omron now has a global synergy in its factories worldwide. We can now share data among of our factories, and have also been able to share our know-how worldwide. As a result, productivity has improved dramatically."
Improvement in product quality has also been a key benefit. "With our big data system, we have been able to automatically evaluate product quality. We can collate six times more data and analyse it and control quality risks. This has reduced the defect rate to one part per million – one of the highest quality standards worldwide."
But perhaps the greatest benefit has been improvement in production efficiency. Omron is now able to fix the root cause of any production line problem 600 per cent faster than before. As a result, there has been a 75 per cent reduction in preventative maintenance and part replacement.
By maximising its production and profitability with IoT solutions, Omron has now turned its focus on assisting customers in their transformation.
"We have been able to unleash our full potential through IoT, and other companies can do the same," Zhou said. "In Australia, we have been able to turn our success into our customers' success."
He said the key to IoT is successfully combining cutting-edge IT and OT. "Omron provides the leading OT platform (automation, sensing and robotics), the widest platform in OT domain, while Microsoft has the leading IT platform, including the widest range of cloud solutions. When we work together seamlessly, the customer wins."
He said IoT is unleashing the potential of Australian industries. "Companies can now see tangible benefits with IoT. It will also make Australian industry more competitive on the global stage and help to create high paid jobs in Australia."
Omron Electronics
1300 766 766
www.omron.com.au