PREMIUM LED LIGHTING RAISES THE STAKES ON LUMINOUS EFFICACY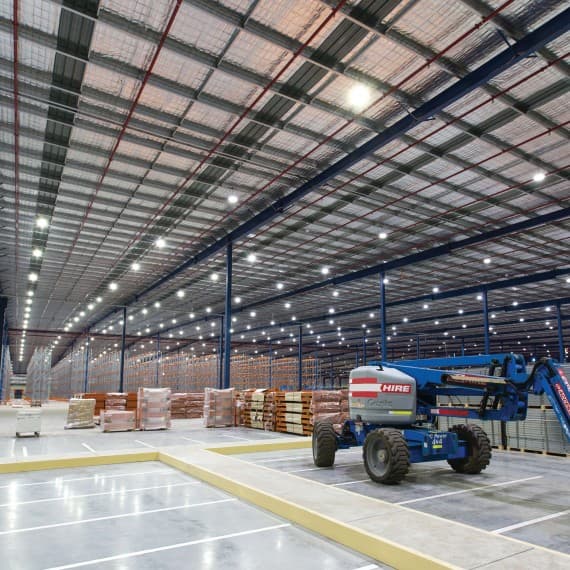 Aqualuma has further refined its Premium Highbay range of LED fixtures to produce a market-leading luminous efficacy of 161lm/W. The improved output follows close collaboration between the Aqualuma development team and their counterparts at LED chip manufacturer Lumileds.
The Premium Highbay range offers models from 90 to 185W, with high-output models rated from 200 to 250W. These luminaires are designed specifically to replace inefficient metal halide or induction lighting used in indoor and outdoor applications. They are ideal for distribution centres, factories, cold stores, warehouses, sports facilities and outdoor areas.
All Aqualuma lighting is made at the company's purpose-built facility on the Gold Coast using local labour and sourcing 90% of its components from Australian suppliers. The aluminium die cast housings are subcontracted to a foundry in Victoria, and the polymers used for internals and lenses come from another Gold Coast manufacturer.
According to company director Carl Amor, "The Aqualuma Premium Highbay range is the most energy efficient highbay on the market today. With a fixture efficacy of 161lm/W and 7-year Australian warranty it makes a very strong proposition for companies looking to upgrade existing premises or fit out a new build."
The Aqualuma Premium Highbay range is IP66 rated and is VEET/IPART approved. Aqualuma works with Westpac's energy efficiency financing arm, Verdia, which can provide competitive finance packages that can make many LED lighting projects cash flow positive from day one.
Aqualuma
1300 145 555
www.aqualuma.com