PRELIMINARY TESTS OF CO2 SEPARATION PROJECT COMPLETE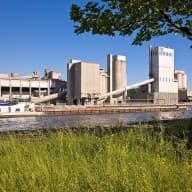 Project LEILAC (Low Emissions Intensity Lime And Cement), featuring Australian technology company Calix's world-leading CO2 capture technology for lime and cement, has been commissioned and is operating successfully after completing preliminary testing at Heidelberg Cement's plant at Lixhe in eastern Belgium. The project consortium consists of the largest lime and cement companies in the world, with Calix as the core technology provider and project leader. Construction was completed in early May.
The €21m (A$33m) project has received €12m (A$19m) of funding from the European Union's Horizon 2020 research and innovation programme. It forms an integral part of the EU's target of reducing CO2 emissions by 80 per below 1990 levels by 2050. To meet this target, the European cement industry needs to deploy carbon capture across 60 per cent of its plants.
Calix's patented carbon capture technology, called Direct Separation, will enable Europe's cement and lime industries to reduce their carbon dioxide emissions dramatically without significant energy or capital penalty.
The consortium is very satisfied with the success of the initial test runs and the performance of the core technology under non-optimum conditions in a first-of-a-kind plant. It has been shown to work on both lime and cement meal, with calcination near to target levels and CO2 of more than 95 per cent purity successfully separated at the top of the reactor, albeit not yet at full design capacity.
Following rectification of some commissioning issues, normal for an engineering project of this scale and ambition, full capacity will be tested until the end of 2020, in order to de-risk potential longer term issues, such as tube health and process robustness. In parallel, planning has commenced on the next scale-up of the technology, including conceptual design and engaging funding consortia.
Calix's founder, Chief Scientist and Executive Director Mark Sceats says it is very gratifying to see the successful demonstration of the company's concept.
"While there are still challenges ahead to achieving full design capacity, we have achieved many breakthroughs in many key areas of the technology," he says.
"The carbon capture piece of our technology represents a unique approach to mitigating CO2 emissions from lime and cement manufacturing and has the potential to leapfrog other technologies in terms of both timing and cost."