Predator: ideal for attacking dirty jobs
31-08-2010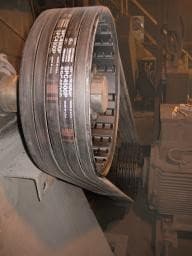 Money saver … the Predator V-belt
Gates highest performing V-belt, Predator, has equal or greater horsepower capacity than a standard V-belt in half the width and weight. 
Using a thinner belt like Predator allows for narrower pulleys, which can minimise overhung load, extend bearing life and drastically reduce downtime and maintenance costs.  
Designed for the toughest, dirtiest and most aggressive applications and environments, Gates Predator construction is what sets it apart from any other V-belt. 
Predator belts have the highest power density of any V-belt, and stretch dramatically less than standard construction belts. 
They are ideal for use on problem drives requiring high-impact strength and load-carrying power. 
Gates Predator belt drives have proved themselves in the toughest applications in agriculture, forestry, mining, construction and manufacturing.
This maintenance free belt can handle 1.4 - 2.2 times more horsepower than the equivalent size standard V-belt. 
So you can design a more compact drive that weighs less, puts less strain on costlier components, and uses fewer belts – all of which reduces drive costs by up to 35 per cent. 
Gates Australia Pty Ltd
Ph: 03 9797 9655