PREDATOR: ANOTHER INNOVATIVE PACKAGING SOLUTION FROM SIGNODE
08-11-2014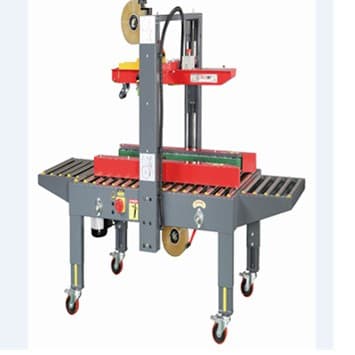 Signode, a global leader in protective packaging systems, understands that every manufacturing process is different.
So each protective packaging application is reviewed as a unique problem with its own set of solutions.
To cater for the challenging needs of a broad range of industries, Signode has developed the Predator Series equipment range.
The launch follows the recent closure of the Akebono brand strapping machine manufacturing operations in Japan.
Signode's Predator range includes strapping machines and complementary equipment such as stretch wrappers, carton sealers and carton erectors.
The technology has been designed specifically for customer needs to provide "Load Containment and Protective Packaging Solutions" and to protect their products, streamline production and most importantly, to improve their bottom lines.
All of Signode's Predator machines are designed with "plug in and run capability" so you are up and running as soon as the equipment is delivered.
Signode can also custom design, wrapping, strapping, carton sealing and carton erecting equipment for your application on request.
Predator equipment is in operation in almost every type of industry, with successful applications throughout Australia.
The equipment is supported by a comprehensive sales, customer service and national distribution network.
You not only get top quality reliable products, you also get the maintenance, technical, and engineering resources necessary to meet your ongoing packaging needs.
The Predator range will cater for any budget, from low entry semi-automatic models up to moderate to high fully Automatic inline strapping, wrapping and carton sealing systems.
The new Predator range of equipment has been enthusiastically received across many key industries.
In the meat, poultry and seafood industry the new Predator 12mm stainless steel automatic strapping machine is an ideal replacement for the previous Akebono machine.
It comes supplied with full stainless, automatic strap feed, brushless motors and faster strap cycle.
For low volume applications in the meat industry the Signode MST semi-automatic is a popular choice.
Signode's Predator carton erectors and carton sealers have provided customers with an  option to seal their cartons with adhesive tape when strapping is not an option.
Typical applications in food packaging, fruit and vegetable industries has allowed Signode to provide both manual and fully automatic systems for integration into existing processing lines. These are available in both stainless steel and painted finish models.
Also, Signode provides a comprehensive service program from equipment installation to cost-effective long-term maintenance programs.
A highly trained teamed of service professionals is strategically located across Australia, to ensure prompt and effective response for service and parts.
Signode
Ph: 03 9373 4842