News, Product News, Plant & Machinery
Published 13-05-2021
| Article appears in June 2021 Issue
Precision Jekran Waterjet gives Spring Ridge Engineering the edge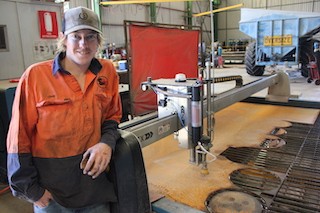 Spring Ridge Engineering apprentice Cody Burgess with the Jekran XM-W Waterjet.
Liverpool Plains on the north-western slopes of New South Wales is a highly productive agricultural area. There are broad acre crops such as wheat, corn and sorghum, while dry-land and irrigated cotton crops thrive in the rich soil.
Sheep graze in the hills surrounding Spring Ridge and the Caroona and Killara cattle feedlots are significant contributors to the local economy.
Machinery plays a major part in cultivation, seeding, weed control and harvesting. Critical tasks need to be performed often in narrow time windows and no farmer can afford to have a machine that is not being productive or is creating costly downtime. 
"In recent years growers have adopted new machines with advanced technology," said Andrew Holland of Spring Ridge Engineering. His father, Chris, started the business around 40 years ago, originally manufacturing and supplying planting machines.
"The transition to more automation has meant that Spring Ridge Engineering has moved from manufacturing machines to supplying parts and accessories, and fabrication of specialised components and engineering services to produce replacement parts and make repairs," said Andrew.
"Harvest time is extremely busy and no one can afford to wait longer than necessary to get a machine back in operation. The need for specialised fabricated parts has kept Spring Ridge Engineering very busy. The business needed a solution to quickly manufacture components, specialised implements and to reproduce high precision parts.
"When it comes to cutting materials, a plasma cutter or oxyacetylene may be fast, but it is difficult to get the fine quality finish straight off the machine that is needed for many precision components." Andrew said.
"We found the right solution in a Jekran X-MW Series Waterjet which we installed in our factory towards the end of last year. Having the Jekran Waterjet gives us the flexibility we need to produce high precision components."
This versatile machine is capable of cutting virtually any material, including steel up to 100 millimetres thick. The fine finish on machined parts means the part can be taken right off the cutting table without any secondary finishing. While this cutting method may not be the fastest, it certainly gives the best precision.
"The Jekran Waterjet is capable of delivering excellent results even for the most challenging jobs. The cold process means there is no molten-edge distortion. When we need to fabricate or replicate a critical part, it is now just a matter copying an existing component or creating a new piece by drawing up the task in a SolidWorks program and feed this into the machine's controller," said Andrew.
"The Jekran Waterjet provides the critical link between our long experience, our resourcefulness and our engineering know-how to give us the edge we need.
"This cutter has enabled us to be creative in helping us deliver the fast turnaround and high-quality solutions that our customers demand. The machine is easy to program and can be operated by an apprentice so our technical support team can spend more time in the field to help producers with their machinery issues.
"The benefit to our business is a good quality job that can be charged out at a rate that will deliver us an acceptable profit margin and in a time frame that makes the customer happy," concluded Andrew. 
-----------------------------------------------------------------------------------------------------------------------------------------------------------------------------------