POWERSTAR INVENTOR VISITS AUSTRALIA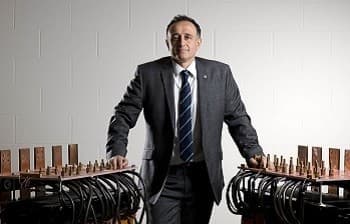 Powerstar inventor, Dr Alex Mardapittas, is a guest speaker at the HVACR Energy Efficiency Seminar Series in Melbourne next month.
He will join Powerstar Australia's Sam Czyczelis and other expert speakers addressing key issues impacting on the Australian heating, ventilation, air-conditioning & refrigeration (HVACR) industry. 
Dr Mardapittas is founder and Managing Director of EMSc (UK) Limited, which manufactures the Powerstar voltage optimisation solution. 
He will be presenting at the Melbourne event, while Sam Czyczelis will be presenting at the Brisbane and Sydney events.
Powerstar is a sponsor of the seminar series that will:
·       Explore emerging technologies
·       Identify solutions in energy efficiency and greenhouse gas emissions reduction.
The Australian Refrigeration Association (ARA) is staging the inaugural HVACR Energy Efficiency Seminar Series offering all HVACR stakeholders an intensive one-day program.
With the potential for commercial and industrial HVACR infrastructure being replaced with new technology and new plant, it is important to gain an understanding of alternative methods, solutions and thinking.
Attendees can explore different ways to better manage the heat load within the Australian built environment.
The dates, cities and locations are:
·       Brisbane: Monday, November 17, 2014 – The Gabba, East Brisbane
·       Sydney: Friday, November 21, 2014 – The York Conference & Functions Centre
·       Melbourne: Thursday, November 27, 2014 – City Convention Centre, Victoria University
For more information visit: http://www.b2bforums.com.au/category/forums/hvacr-energy-efficiency/home/