Published 16-04-2020
| Article appears in April 2020 Issue
A powerful underwater bond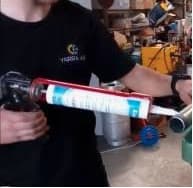 With so many people forced to stay inside during the COVID-19 crisis, many new homebodies have turned their attention to home improvements. However, broken roof tiles, leaks, and outdoor fixtures are proving to be a challenge for the laypersons among us.
Enter Sub Aqua, a new high tack adhesive and sealant that doesn't "see" water. More than just a household glue, Sub Aqua sticks fast in even the wettest environments.
Through airborne moisture or direct contact with water, Sub Aqua instantly holds firm to stone, metal, wood and many plastics, and cures over 48 hours into a pliable, hard-wearing rubber form. Because it seals under water, it's perfect for rusty gutters, leaky air conditioners, pipes, windows, toilets, baths, showers, and marine repairs.
Even in dry spaces, Sub Aqua is pliable enough to create flexible expansion joints between surfaces. Creaky floor boards can be done away with in a single application.
The high-tack consistency means signs, plaques and outdoor ornaments up to 20 kilograms can be attached to any vertical surface, even in rain.
With winter approaching it's a great time to fix up the pool, and that's where Sub Aqua really shines. Pavers, coving or cracks in walls can be sealed instantly, and since Sub Aqua is paintable when dry, any repairs can be made to look seamless.
Sub Aqua is available now from Pack King.
Pack King
03 9720 0425