POWER SUPPLY SERIES FOR CHALLENGING APPLICATIONS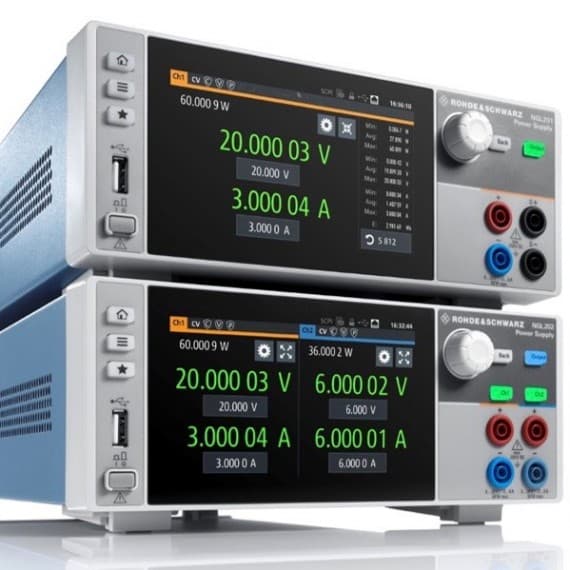 The Rohde & Schwartz R&S NGL200 series of power supplies is available from Australian distributor element14. Its combination of high accuracy, fast load recovery time and ease of use makes it ideally suited for challenging applications such as handling load changes in mobile phones and IoT devices without creating voltage drops or overshoots.
The products' two-quadrant architecture allows them to function both as high-precision power sources and as sinks that can simulate batteries and loads with minimum residual ripple and noise, suitable for the development of power amplifiers and MMICs. Short recovery times enable them to handle fast load changes appropriate, for instance, for situations where mobile communication devices switch from sleep mode to transmit mode.
The circuit design allows the user to determine how the power supply regulates load changes, and the 'fast' default setting is optimised for speed, achieving recovery times of less than 30µs, making the series ideal for powering IoT devices and other battery-operated designs.
The products are also incredibly easy to use with a high-resolution touchscreen and colour-coding for different operating modes. The QuickArb function also supports more points (4096 points) and runs Arb sequences faster than other power supplies on the market.
"The R&S NGL200 Series is ideally suited for use in laboratory and ATE environments," says James McGregor, Global Head of Category – Test, Tools and Production Supplies at element14 and Premier Farnell. "This new addition means that element14 can support design engineers working across all types of application development, with a broad range of budgets."
The Rohde & Schwarz range at element14 also includes the R&S NGE100B basic power supply suitable for education purposes, on the workbench and in system racks, and the R&S HMP2000/4000 performance power supplies suitable for labs and automatic test equipment applications.
element14
1300 361 005
au.element14.com