POWER SUPPLIES SLIM DOWN FOR AUTOMATION SYSTEMS INTEGRATION
01-11-2017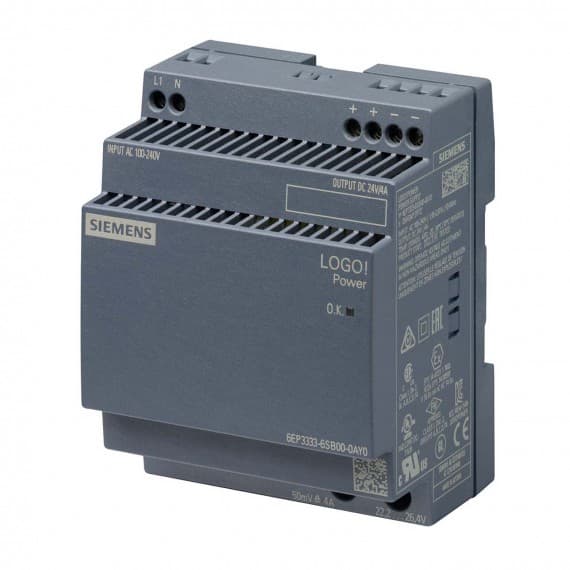 RS Components is now stocking the fourth generation of Logo!Power power supplies from Siemens. The narrow-format PSUs have the same external design as the Siemens Logo!8 logic controllers. They deliver up to 100W for distribution boards, and are fully compatible with the third-generation range of devices.
New functions and models in the range allows support for an extended selection of automation applications, such as packaging machines, conveyor belts and sorting systems. And an extended operating temperature range from –25 to +70°C enables their use in colder environments.
With housing widths of 18 to 72mm, the fourth-generation devices are 18mm narrower than the previous generation, allowing flexible mounting on DIN rails in distribution boards or directly on walls or ceilings. They can also be mounted side-by-side with other devices, such as Logo! intelligent logic modules.
Typical efficiency is as high as 90% over the entire load range, and no-load losses are less than 0.3W.
The series extends the Logo!Power portfolio with two new output variants offering 24V/0.6 A and 12V/0.9A. Including these two units, the series comprises a total of 11 devices with regulated and adjustable output voltages of 5, 12 15 and 24V supplying an output of up to 100W.
A wide-range universal input allows these power supply devices to be operated with all single-phase supply networks (110 to 240V AC) and DC supplies from 110 to 300V, with no need to switch over.
RS is working closely with Siemens to ease the transition to this latest range. This will include holding stock of the existing third-generation supplies for as long as possible, while also delivering the new generation of products for those customers working on new designs that want to take advantage of the latest features and technologies.
RS Components
1300 656636
au.rs-online.com