POWER SUPPLIES ADJUST TO MACHINE BUILDER DEMANDS
27-03-2017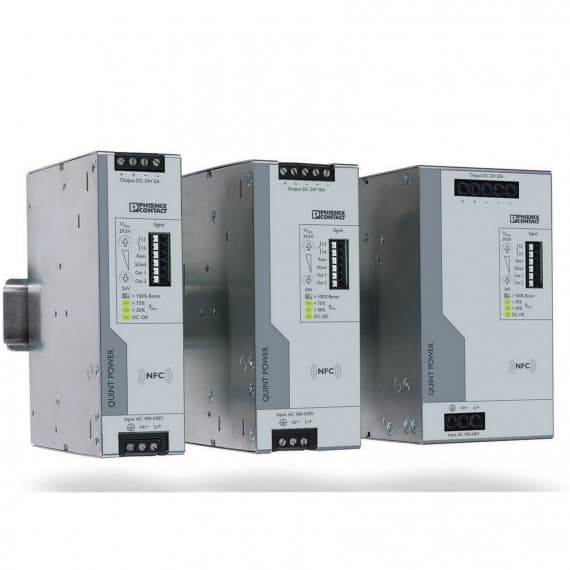 Phoenix Contact describes its fourth-generation Quint power supply as the world's first parameterisable power supply. New features in the Quint Power IV allow the user to tailor each unit to provide the required output and monitoring functions.
The fully configurable Quint IV allows users to adjust output characteristics, signalling and voltage. And these adjustments can be made from a common or garden smartphone using the embedded NFC (near field communications) interface.
The new supplies are also claimed to be highly reliable. Integrated selective fuse breaking technology delivers six-times the nominal current in up to 15ms to selectively trip circuit breakers safely and quickly. Meanwhile, parallel-connected loads are unaffected and can continue working.
At startup, a static boost facility can supply 125% of nominal current continuously, and dynamic boost can increase this to 200% for up to 5s, which can be used to start heavier loads. The output power is depicted on an easy to read bargraph.
Comprehensive diagnostic facilities are available to monitor critical operating parameters and report errors before faults occur. And both single- and three-phase 24V models incorporate gas-filled surge arresters, improving reliability and providing a mains failure buffer time of more than 20ms.
With zero no-load losses, the Quint IV is a power saver, and has an energy-saving sleep mode that can be triggered via its remote input.
The Quint IV is available in single- and three-phase models, and so is ideal for machine building in process, energy and water industries. Operating temperature range is a wide -40 to +70°C.
Phoenix Contact
1300 786 411
www.phoenixcontact.com.au