Power station finds ideal wastewater solution
25-03-2014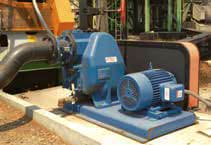 The Energy Australia maintenance team at the Mt Piper Power Station in the Central West region of NSW were having continuing maintenance issues with their submersible wastewater pumping stations on the site.
The problems were many and varied, including lifting chains breaking, pumps becoming stuck on their guide rails, as well as general reliability issues.
Worst of all, operators were exposed to a 7m fall into the pit while hoisting submersible pumps to the surface.
Equipment failures at the bottom of wet wells exacerbated the issues, adding OH&S problems associated with confined spaces entry to the problems. Because of these risks and the need to inventory and maintain confined spaces entry equipment (such as personnel lifting apparatus), the Team Leader from their Maintenance Store decided to outsource this task to professionals in the field. But this proved to be quite an expensive exercise.
The high cost of maintaining these systems (whether using internal or external crews) and the desire to create a safer working environment for those working in the area, drove plant owner Rainer Scheurer to search for a better solution. He decided to ask Hydro Innovations to investigate a Gorman- Rupp self-priming pump option.
The application was not tough in flow (15L per second) or head (10m of total dynamic head), but the pit (wet well) was quite deep, putting the pump on a 7.6m suction lift – a tough ask for some selfpriming pumps.
Sean Currie, from Hydro Innovations, explained that most self priming pumps with a full casing of liquid are capable of priming to this level, but re-priming automatically, with only a partially (sewage) filled casing (because casing siphoning can occur between pump cycles) is a totally different proposition.
Sean proposed a Gorman-Rupp V3B60-B, which is part of the latest range of self-priming sewage pumps from the industry leader. The pump is at the cutting edge of self-priming wastewater pumping technology and is capable of handling a 76mm spherical solid, delivering the best efficiency in its class.
And because of a patented selfcleaning wear plate system, it is able to handle stringy materials such as rags.
Scheurer liked the idea of the pumps being located high and dry above the wet well to enable operators to monitor and service the pumps without the need to enter wet wells or lift the wet well lids.
And overall, Energy Australia is delighted they chose Gorman-Rupp selfpriming pump technology.
Hydro Innovations
Ph: 02 9898 1800