Published 14-07-2020
| Article appears in August 2020 Issue
THE POWER OF THE CORRECT SUCTION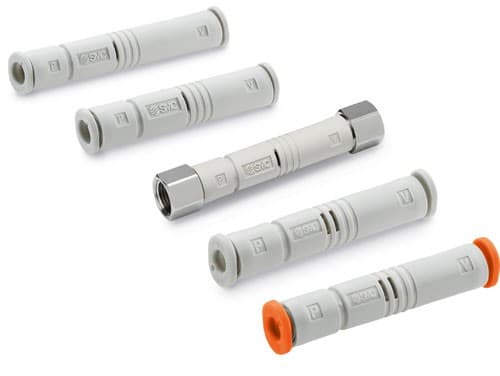 Compressed air efficiency is the name of the game for SMC Corporation Australia New Zealand's extensive range of vacuum components.
Instead of spending thousands upgrading your system, SMC can optimise your current system by replacing existing vacuum components with efficient, state-of-the-art parts.
"We analyse the current vacuum system and apply an integrated approach to energy efficiencies," says Rodney Ryan, SMC Corporation ANZ's state manager for Victoria and South Australia.
"We support our customers by analysing weak points in their existing system, assessing possible areas for energy savings, understanding the flow and pressure requirements and in optimising their selection of vacuum components."
SMC places great emphasis on the design of its vacuum range and helps its customers select the best vacuum system for their application.
"Education and training are central to the success of any system and this forms part and parcel."
Recently, SMC worked with Australian machine builders HMPS to develop an innovative, industry-first vacuum solution.
"The machine was custom-built for a customer in Thailand who wanted to keep their old compressor but upgrade their line without any disruptions," Ryan says.
"The machine is retrofitted with a vacuum head for the loading and offloading of pet food. While the specially engineered vacuum head used in this application is made up of standard SMC vacuum products, this solution has been engineered into a multi-functional and energy efficient vacuum design."
SMC has identified the top 10 checkpoints customers should be wary of when introducing vacuum into a plant.
1. Have you performed a leakage test to find leakage level, and the most suitable vacuum cup for your material style or shape of product?
2. Do you have the optimum suction flow and vacuum level?
3. Have you correctly identified acceleration forces for each movement: e-stops, pneumatic drives, electric drives?
4. Are the vacuum ejectors within the optimum supply pressure range to reduce air consumption?
5. Is the vacuum system sized for the worst-case scenario?
6. Check that the tubing length between vacuum ejector and point of use is as short as possible.
7. Check that the tubing diameter on the vacuum port is equal to or bigger than the tubing diameter on the supply side.
8. Is a filter installed to protect vacuum ejectors?
9. If long lengths of tube are required, increase the diameter of the tube.
10. Have you installed a vacuum switch in your vacuum line to monitor or detect leaks?
SMC's comprehensive range of vacuum componentry includes the ZK2 vacuum ejector, an all-in-one energy saving solution that offers a 90 per cent reduction in air consumption; the ZP2V vacuum saving valve, which is used when multiple vacuum pads are operated by a single vacuum generator; the compact, lightweight ZH-A vacuum generator; the ZL2/3 multistage ejector, which offers high efficiency while meeting suction flow requirements for workpieces with high levels of leakage; and the ZU-A in-line vacuum generator that installs close to the vacuum pad in order to prevent absorption failures.
"SMC offers vacuum testing to customers to enable them to find the perfect vacuum solution for their application," Ryan says.
"This sets us apart from competitors and ensures that our products are of the highest possible quality."
SMC ANZ
www.smcanz.com